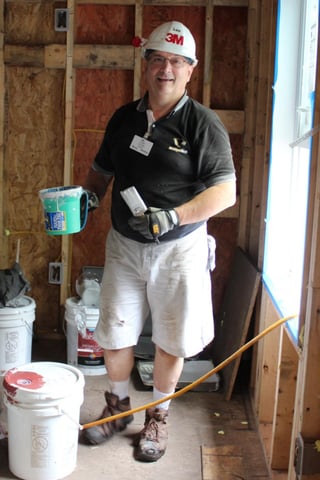 Twin Cities Habitat for Humanity has some of the best volunteers in the world—literally! Lou Cristan, 3Mgives regular volunteer extraordinaire, was one of only 20 selected to receive the 2017 3Mgives Global Volunteer Award for outstanding service and impact to the lives of others.
Here's just a snapshot of the impact Lou's had with Twin Cities Habitat:
Clocked over 500 volunteer days and 3,750 volunteer hours in 7 years
Leads the 80+ 3M retired volunteers, building 2 houses in the summer and finishing many more in the winter
Coordinates annual 3Mgives Volunteer Recognition Luncheon, keeping his team motivated and connected
Served as a Crew Leader during the Jimmy and Rosalyn Carter Work Project in 2010
Advocates for affordable housing at the Capitol, has attended a Global Village Trip to Costa Rica, and so much more
But more than the numbers, Lou truly exemplifies the mission and values of Twin Cities Habitat for Humanity—perhaps none more than our value of community: We bring people from all walks of life together in our work. Whether he's at a dedication for a home 3Mgives worked on and one of the children is giving tours of their new room, or sitting at lunch discussing life with new and old 3Mgives teammates, Lou lives and breathes community.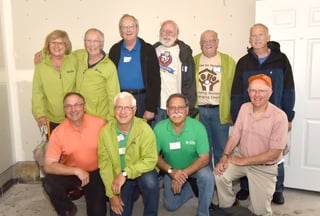 Lou's a strong leader and keeps Twin Cities Habitat's largest regular volunteer crew running smoothly, but he leads with curiosity—curiosity for new building techniques or new stories from people he meets on site. He can connect instantly with people through his warm personality and quick sense of humor, and easily builds relationships while building homes. When he worked at 3M he had a few "distant" friends, but through volunteering he has met 20-30 people he now considers good friends.
"Lou's dedication and commitment to the Habitat mission and the generational impact on families in the Twin Cities makes him such a valued and respected volunteer," said Sue Haigh, President and CEO of Twin Cities Habitat for Humanity. "The fact that children in the Twin Cities have the opportunity to grow up in a safe, stable, and affordable home because of the work of Lou and the 3Mgives Habitat Project volunteers is all he needs to keep going. We are grateful to consider him part of the Habitat family."
For Lou, there are many moments that illustrate the impact of all the hard work. Like a crisp fall morning in a Woodbury townhome development, not too long ago. Lou was working on the 24th home for 3Mgives (the 34th in the Woodbury development).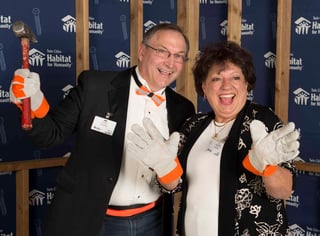 "When we had started in Woodbury, there were two five-plex's in place…in the morning, half of a school bus would pick up one or two kids and off they would go," Lou recalled. "I still remember standing up and we were flying trusses and I remember looking down and there were three school buses that would come every day. And we have a playground dedicated to us in the neighborhood, and to see 15-20 kids playing over there really makes a big impact."
From everyone at Twin Cities Habitat for Humanity, we'd like to congratulate Lou on receiving the 2017 3Mgives Global Volunteer Award, and extend a huge thank you for his many years of dedicated service.