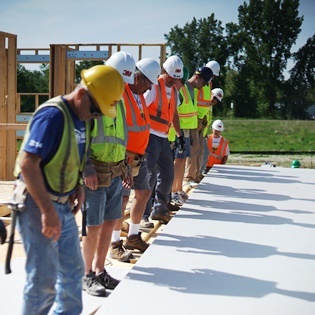 At Twin Cities Habitat for Humanity (TCHFH), we can't say enough good things about the 3Mgives Habitat Project. Made up of primarily 3M retirees along with some family and friends, the group regularly volunteers on construction sites and financially supports Habitat's work. This summer, the 3Mgives Habitat Project started its 20th build by actively supporting construction of a 4-plex in Cottage Grove and two 4-plexes in Hugo, so I wanted to share a bit about this incredible group.
The 3Mgives Habitat Project builds throughout the year. This summer, they committed to 20 work camp weeks, meaning they fully staff a construction site for almost five months. In addition to summer work camps, a regular crew of retirees volunteers twice a week throughout the winter. Last fiscal year, 92 individuals volunteered more than 2,800 days through the 3Mgives Habitat Project. This staggering level of support puts the crew at the top of the list of groups by total number of volunteer days.
Moreover, they have one of the highest average days per volunteer per year of any group. On average, a 3Mgives member volunteers 25 days per year. Each of Habitat's top 5 individual volunteers by days per year is part of 3Mgives and two of them surpassed 100 days last year! One volunteer has logged more than 1,300 days on site since joining the 3Mgives Habitat Project. This means that a lot of volunteers are on site often, making them experienced, skilled, and productive, which speeds up construction. They become trusted leaders and teachers on site who can handle a variety of tasks and challenges.
As if this amount of volunteering weren't enough, 3Mgives, project sponsors, and volunteers also pledge to sponsor two homes each year with TCHFH! 3M sponsors its employees, both current and retired, through matching gifts. If an employee volunteers 20+ hours in a year, or a retiree volunteers 25+ hours, 3M will donate $250 to match the volunteer time!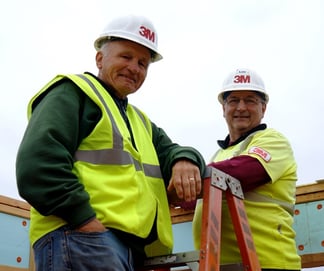 A project coordinator for 3Mgives and dedicated volunteer, Lou Cristan is pictured here with Ray Meier (Ray on the left, Lou on the right). Ray is one of five founding members of 3Mgives Habitat Project who still volunteer with the group regularly. Lou says the group is "truly blessed" to have continued involvement of these founding members.
Ray and the other founders have witnessed an incredible 20 years with the group: since its inception, 3Mgives Habitat Project has been involved in more than 80 new builds and 90 rehabs. Through this work, they've positively impacted the lives of more than 170 families, including more than 500 children. Over the group's history, they have engaged 500 volunteers, clocking more than 40,000 total volunteers days with Twin Cities Habitat.
Dan Shapiro, a TCHFH board member, has been volunteering with 3M retirees for nearly 14 years. Dan says the group is motivated to work on site because Twin Cities Habitat is "a wonderful organization that accomplishes a lot of good work helping families help themselves." He feels fortunate and proud to work with both 3M and Habitat to contribute to the community, a sentiment shared by many of the group's volunteers. Dan and Lou have both described similar scenes as their favorite moments on site: seeing young kids waiting for the school bus or playing outside their new homes. These are the times when volunteers witness the true impact of their work.
The 3Mgives partnership also gives Twin Cities Habitat the confidence to take on big projects, such as the Garden Gate development in Woodbury. At the dedication of the last homes in that community, Sue Haigh, President & CEO of TCHFH, reflected on the decision to develop the property. "We never, ever would have had the courage to do this project if it weren't for 3Mgives," Sue said. The group's tremendous commitment, talent, and drive were critical to Habitat's decision to take on this development, which was our single largest project, up to that point.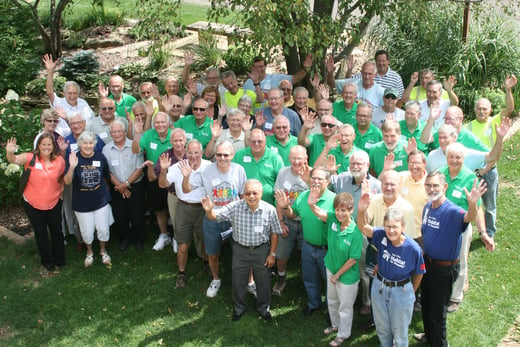 "The impact of the 3Mgives Habitat Project is immense considering the number of families who benefit from their hard work and dedication for generations to come," describes Anne Thul, Manager of Constituent and Volunteer Programs at Twin Cities Habitat. 3Mgives Habitat Project members bring know-how, energy, and humor to the worksite. They make a huge difference in the lives of Twin Cities families and in Habitat's work. On behalf of Twin Cities Habitat and our partner families, thank you 3Mgives for your commitment to our work and our community!