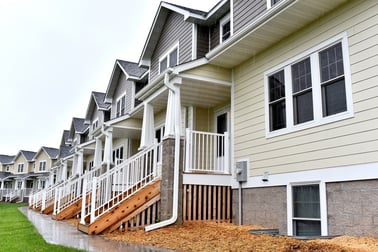 After several years of work in the Garden Gate development in Woodbury, Twin Cities Habitat for Humanity dedicated the last six units in the community. We celebrated on Saturday with neighbors, sponsors, staff, and volunteers to welcome the new families to the neighborhood, which is now home to a total of 34 Habitat families.
Saturday's rain didn't dampen the festivities—it was a joyous home dedication with a crowd of 80 people gathered at the attached townhomes. There was a great lineup of speakers to welcome the families to the community, recognize the contributions of sponsors and volunteers, and celebrate Habitat's long partnership with the City of Woodbury.
Jake Kirchgessner, who has been the Site Supervisor at Garden Gate for 4 years, said that the dedication is bittersweet for him. He's made a lot of great memories on site and feels privileged to be included in the lives of the homeowners, but it is hard to see the project come to a close.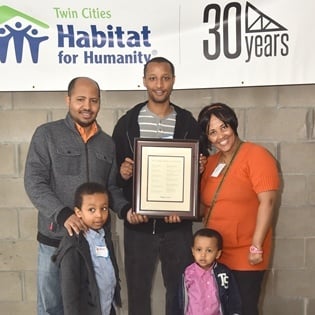 After each of the families introduced themselves and their children, one of the homebuyers, Zakaria, shared the story of his journey to this point. Originally from Ethiopia, his family has struggled with renting. He said he looks forward to meeting his neighbors and building a community here, something that is hard to do when renting and moving frequently. He is excited for his kids to attend great schools and for he and his wife to go back to further their education. Zakaria also reflected on his time working on sweat equity hours, which he said was very enjoyable. He closed his remarks by thanking everyone for their support, donations, and for being part of his family's life: "You are in our hearts forever."
Michelle Rohrer, VP of Human Capital at ThreeBridge, spoke on behalf of her company. "It is an honor and privilege to be part of this awesome organization." A Cornerstone Sponsor of the project, ThreeBridge contributed more than 500 hours of volunteer time.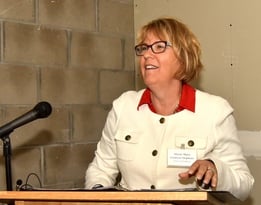 Mayor Mary Giuliani Stephens of the City of Woodbury (pictured right) expressed her excitement for the new families and for Habitat's work in her community. To date, Twin Cities Habitat for Humanity has sold homes to more than 75 families in Woodbury, more than in any other city outside of Minneapolis and St. Paul! Community partnerships with the city and the county have helped make this work possible.
Senator Susan Kent, District 53, said she takes pride that Woodbury has been a strong community for Habitat and is thrilled that more than 100 families have purchased Habitat homes in her district. With much enthusiasm, she shared that a brand new elementary school would be opening just down the road from the development, which is home to dozens of children.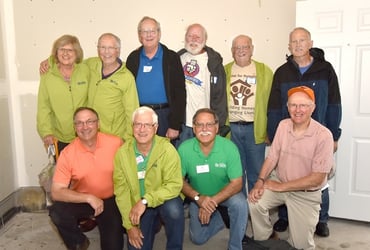 3Mgives, a group of 3M retirees and regular volunteers (pictured left), has been an incredible contributor to Habitat's work in the Garden Gate community and around the metro area. Lou Cristan, a project coordinator for 3Mgives, thanked the families and the organization for the opportunity to collaborate on these new homes. He shared that it was amazing to build with some of the homeowners and witness their enthusiasm, energy, and talent on site. "We hope you enjoy living in your new homes as much as we enjoyed building them!"
TCHFH board member and volunteer with 3Mgives, Dan Shapiro, presented each family with the Golden Rule to represent the shared value of generosity and Habitat's commitment to inclusivity. He also thanked all those involved for giving back to the community and "changing the trajectory of lives forever."
Sue Haigh, President & CEO of TCHFH, concluded the remarks with a heartfelt thanks to 3Mgives, the city, and the partner families. "We never, ever would have had the courage to do this project if it weren't for [3Mgives]," she shared, reflecting on the decision to buy and develop the property seven years ago. "My heart is full," Sue said, as she thanked the families for their partnership and for having the courage to help build their own homes.
This home dedication was an incredible reminder that it takes many hands and hearts to do the work we do. Please help us continue to build brighter futures by making a gift today.
View all the photos from the event on our Flickr.