On the gorgeous evening of June 29th, three Habitat families celebrated the start of the summer in their new Habitat homes.
The holiday weekend started off with a home dedication filled with delicious food, happy kids, and kind words. Habitat supporters formed a circle on the beautiful hard wood floors at the front of the home. Susie Deshon, Dedications Committee member, asked the three families to say a few words about their experience working through the Habitat Homeownership program.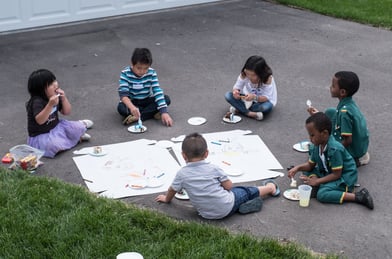 Homeowners Chao and Thae were incredibly grateful for the help from their financial coach, Jessa, and Habitat's outreach coordinator, Linda. The second homebuying family and host of the home dedication was Fasika. She was grateful and excited that her family would move in next month. Fasika expressed gratitude to Habitat for helping her and her children have a place to call home.
The third homebuying family has been involved with Habitat for years. Omar started off as a volunteer at the ReStore and eventually went on to apply for homeownership.
"We lived in the same place since 2003," Omar said. "There was no space for the family. Not only did I get a house, but I met the best people."
Building a Habitat home takes many hands and great direction from Site Supervisors like Zack Zoul. Zack was thrilled with the turnout of the home and seeing Fasika's family enjoy the space: "The best thing about being a supervisor is you get to see a lot of beauty and a lot of people." Some of the beauty Zack saw throughout the build was from the major sponsor, Ecolab, and the regular volunteers who put time and energy into the build. "I want to put out a few thanks to Ecolab. They always ask about the families." Zack turned to one volunteer, "Larry you were out three times a week. You care so much!"
There were many special moments throughout this program, including the supportive words by Councilmember Dai Thao, City Council representative for Ward 1:
"It's an honor to be here. We are so proud to have Habitat as a partner. Having your first home is like having a baby— It's an experience."
Councilmember Thao reminisced on his childhood and how his mother worked incredibly hard to provide stability for the family. He was proud of all three homeowners and the hardworking volunteers. "Volunteers- you put your life on hold so you can build someone else's. This is what makes our community great. Homeowners and volunteers help our community be viable."
The program wrapped as guests and families began to enjoy each other's company and the amazing spread of food.
A huge "Thank you!" to one of the many sponsors on the home, Edina Realty, for their kind gift and caring hearts. Thank you to Councilmember Thao for showing our families that they are part of the community. Lastly, thank you to the three families for showing guests hospitality and an image of perseverance.
As Cathy Lawrence stated, Vice President of Resource Development, "Everyone comes to Habitat full of love." Now it's time to take that love and continue to spread it.
View more of Paul Stark's photos: Home Dedication 6/29/17