The fall is full of change: leaves turning colors, kids heading back to school, and for some, buying a new home.
Last week, Twin Cities Habitat supporters celebrated two home dedications with happy homeowners and volunteers. The first dedication took place on Thursday in St. Paul. The homeowner, Almaz, was thrilled with the outcome of the home, "This is a dream come true. Thank you, God. You all gave my kids more space." Almaz thanked all those who helped in this process including, Site Supervisor, Bryn Chambers, Financial Empowerment Coach, Stephen Wreh-Wilson, and Community Loan Officer, Maureen Holman.
Bryn Chambers led Almaz and the team of volunteers through the homebuilding process: "I want to thank everyone who came out. Almaz came out two or three times a week, Wells Fargo worked incredibly hard on this home, Christ the King- St. Thomas the Apostle Church Coalition was such a fun group to work with. Of course, the main goal is to get Almaz in a good home, but we also love when the volunteers have fun."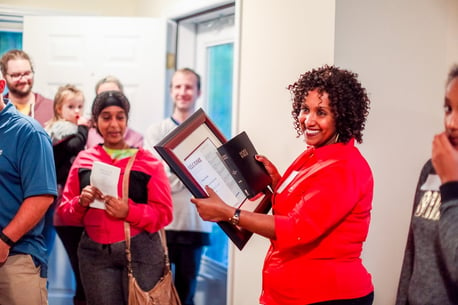 Photo by The Jadeite Shutter
It was very apparent that Almaz and her family were determined to achieve homeownership. Her Financial Empowerment Coach, Stephen, spoke highly of Almaz: "I met Almaz in December 2016. I knew she was ready then. I told her what she needs and she had those things done and ready."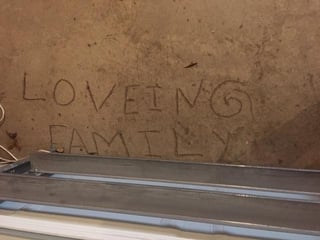 The happiness continued on Saturday with a home dedication celebrating two homeowners. Faiza and her boys are purchasing a Bloomington home and Ninawa and her children have already moved into their Chaska home. Both homeowners were excited to celebrate new beginnings.
Faiza had many great memories of the build, including writing "loving family" in the cement in her garage.
"It was fun working on this house, and I mostly enjoyed doing the sheetrock and insulation. The people were so wonderful," said Faiza.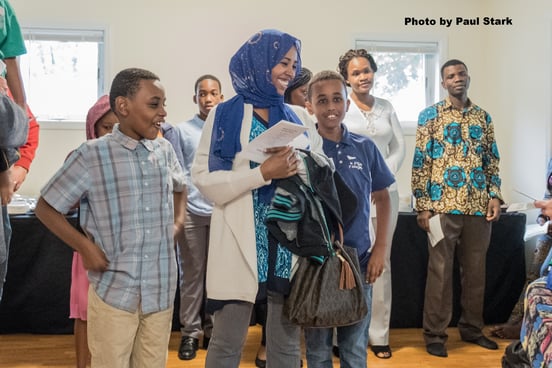 Ninawa, too, was grateful to the staff that supported her through this journey, "I just want to say thank you to everyone that helped me. Adade, he is very nice man. Linda, she is very nice lady. Thank you all so much."
The Program Manager for the City of Bloomington, Bryan Hartman, was there to welcome Faiza: "Thank you for buying your home here. This home and your family are a wonderful addition to the neighborhood. I think you'll enjoy Bloomington, and the schools. I hope you have a wonderful experience."
At Twin Cities Habitat, we love to celebrate new homeowners and it was the perfect way to start the fall season. A big thank you to our sponsors on the homes this week and congrats to Entrepreneurs House who completed their 15th Habitat house.
We wish the best to the three families who partnered with Habitat. May your house bring you happiness and comfort.
Check out our dedication photos!