On a beautiful April Saturday morning, the energy outside of the four townhomes was electric, as a crowd began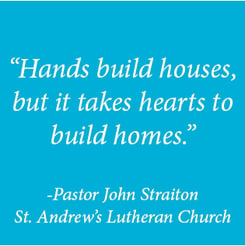 to gather outside of four new Twin Cities Habitat townhomes in Hugo. There were Habitat homebuyers, families, friends, volunteers, sponsors, city officials, and Habitat staff, all coming together for one purpose: to celebrate four new Habitat homeowners.
The first to arrive was the fourth and final homeowner to move in to the Hugo complex, Bisrat. Bisrat was signing her mortgage and moving her and her 12-year-old son into the new home that same weekend. Bisrat shared that, although she grew up in a small village, when she first saw her home in Hugo, it immediately reminded her of her mom's house. Shortly after Bisrat's arrival, the other homeowners and kids came out of their new homes.
Meeting families you'll likely be living next to for decades can be intimidating. Fortunately, when a morning involves chalk art, cake, and Legos, the feeling of intimidation disappears. The kids broke the ice playing side-by-side, and soon their parents were shaking hands and pointing out which home was theirs. Ten-year-old Said, whose family purchased one of the Habitat townhomes completed last year, told all the new kids what a great neighborhood it was. He and his younger sister both love the school nearby and were excited to welcome their new neighbors.
The program began with Pastor John Straiton of St. Andrew's Lutheran Church. He reminded us that, "Hands build houses, but it takes hearts to build homes," and Habitat home dedications celebrate those kind, caring, compassionate hearts.
The Hugo Mayor, Tom Weidt, welcomed the families and said the community is better and stronger with the new homeowners. Mayor Weidt acknowledged that these homebuyers put more work into their home than most people, and Hugo homeowner, Ron, spoke to that experience: "I loved the whole process, from building, helping, learning skills, chalking walls, hanging sheetrock, landscaping, painting—all of it. It felt like family when you were on site."
The feeling of family was brought up more than once throughout the program. Marcia was the site supervisor who did "homebuyer Saturday" in Hugo, which was a day for homebuyers to get their sweat equity hours in. Marcia said, "It was an honor to work with these families and Habitat as a whole."
The families were beaming as Kim Welch, Twin Cities Habitat Board Member, gave them their Golden Rule plaques. Kim Welch has helped keep both Valspar and Andersen Corporation deeply involved in Habitat's work over the past couple years. She spoke on her involvement with Habitat as a board member, volunteer, and donor. She believes her experience made her a better person and connected her to different communities.
With the sun shining and kids coloring, Father Greg Esty from the Church of St. Genevieve closed the program by saying, "Look around. This is what God looks like—a conspiracy of good people coming together to do good work." Father Esty pointed at the "perfect prayer" on the driveway, written in chalk: "Welcome Home!"
Thank you to the WONDERFUL volunteers at the Church of St. Genevieve for their generosity and continued support of Habitat homeowners in Hugo. Thank you to the Mayor and City Officials of Hugo, for welcoming new families into the community. Finally, thank you to Schwieters Companies for providing the opportunity for current and future Habitat Homeowners to begin a new chapter in a safe and affordable home.
We wish the very best to our new homeowners!