Circle of affirmation: people gathered in a circle sharing positive, feel good, supportive words. If you've never been in a circle of affirmation, it is one of the most gratifying experiences. And on Thursday, May 11th, Habitat Homeowner Nasra and her family celebrated their home dedication with one large, loving, circle of affirmation, leaving everyone in attendance smiling.
The beautiful Habitat home went from calm and subdued to exciting and exuberant in just a matter of minutes. "This is our home!" one of Nasra's children yelled as they ran past, on their way to explore the bedrooms. The living room quickly filled with guests, including Nasra's family members, Habitat staff, and members from 3Mgives Habitat Project, which was the major sponsor and volunteer group on this home.
Karin O'Connor, a dedications committee member, set the tone of the program speaking about the importance of creating memories with family. Around the room were several types of families. There was Nasra and her relatives, then there was the 3Mgives volunteers who have formed a family after 20 years of building together. Finally, there was the rest of us, gathered to celebrate the accomplishments and efforts of all those involved with this Habitat process. "We're all a family now," said Karin.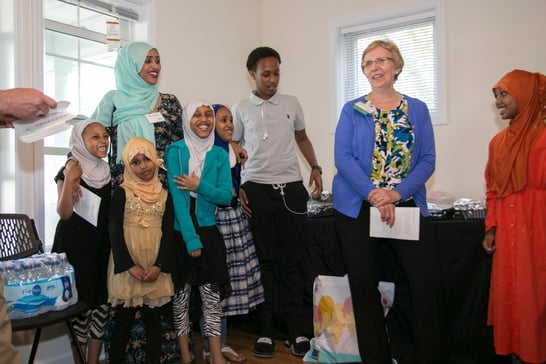 Nasra looked around the circle, overcome with gratitude: "Thank you so much to all of you. Without you guys, we couldn't accomplish our goals. Now, they'll remember this home when they go to college."
She smiled at her kids, and gave the all clear for our dedications committee member, Win Curtiss, to take them out to their new backyard to run around.
Rhonda Thorson was the site supervisor on this home, and felt a deep connection with the topic of creating memories with family. "Today's a special day for me. The iris' are in bloom and that flower was my grandma's favorite. Those memories continue to bloom in my yard. I'm excited for you to create memories in this home."
We were happy to have Legislative Aide to Councilmember Dai Thao, Mai Chong Xiong, join the celebration and speak on behalf of the Councilmember Thao. "It's an honor to be a part of this moment. Councilmember Thao really wants to welcome you to the community. Nasra, it took courage to be a leader for your family and make big decisions."
Nasra was an image of strength and hope for her children.
Dan Shapiro is also a member of the 3Mgives Habitat Project and serves on the Twin Cities Habitat for Humanity board. "We enjoy working with each other and the homeowners so much. People like you Nasra, that buy these houses, take classes, work so hard; we are inspired by you folks. To you and all the 3M folks-thank you so much."
Lou Cristan, a fellow 3Mgives Habitat Project volunteer, has spent 23 years serving as a volunteer and impacting lives in the community through Habitat. "Family creates opportunities to create dreams. Family is the neutron that brings everything together." Lou emphasized the impact working with other 3M members on Habitat builds has had on him and his years in retirement, "We just love being around each other. We get to experience fellowship together in retirement."
We would like to thank the 3Mgives Habitat Project group for their many volunteer hours, support, and incredible hearts. 3Mgives volunteers have worked on more than 170 Twin Cities Habitat homes over the past two decades, and continue to impact families in the Twin Cities community.
Cathy Lawrence, Twin Cities Habitat's Vice President of Resource Development & Community Engagement said during the program, "Home means to me where my family gathers", and at that beautiful home in St. Paul, a family of many parts gathered and made memories.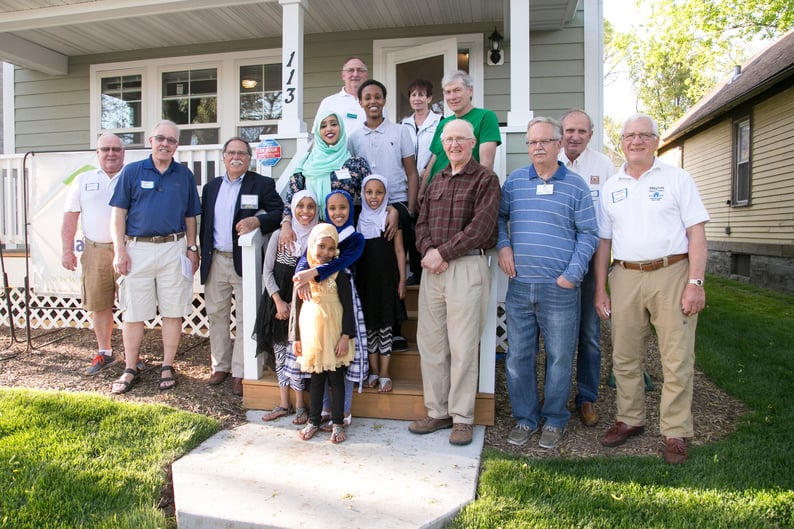 Good luck to Nasra and her kind, energetic, compassionate children. We wish you all the best!