Guest blog by Molly Sina
Home dedications are always unique and special; each one has its own tone and energy as we welcome the family to their home. On April 19th, the family of Abdifatah and Farhiya gathered with staff and volunteers from Twin Cities Habitat for Humanity to celebrate the occasion.
"Today a house becomes a home." Susie DeShon opened the celebration and could not have done so with a more perfect line. With the family's six children, the joy was visible and the energy of love was electric. It was the kind of energy that can transform a space into a haven of love and family.
"I didn't believe it until today that this was actually happening… I am going to have my own house!" Both Adbifatah and Farhiya were incredibly grateful for the home that was built for their family. The journey to this achievement over the past months had not been without its challenges, but with patience, faith, and hard work, it was accomplished.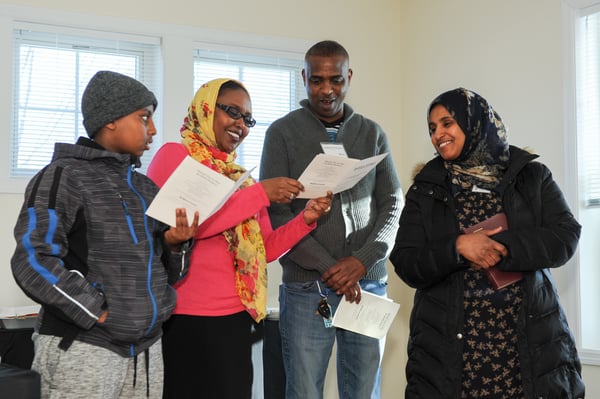 Pa Lor, one of TCHFH's Financial Coaches, along with Jake Kirchgessner, a Senior Site Supervisor, offered up a few words to highlight this victory and celebration. Pa was thrilled to share in this moment of accomplishment with the family. After several bumps in the road and a few challenging moments, there was a time when the family was left wondering if they would in fact be able to provide a home for their children. "… but your faith and tenacity showed through. Thank you for your faith in me to help you achieve this goal."
Jake, the Site Supervisor, was also sincerely proud of this family. "Congratulations. We are so excited to see you fill this house with joy." And with the laughter of children surrounding the crowd, there was no question that this would be the case. "Many hands went into making it, we are all very excited for you and your family."
"Thank you from the bottom of my heart."
-Farhiya Mohamed
Sue Haigh, Habitat's President & CEO, has worked many years with the organization and her loving presence amplified the joy in the room. The journey to homeownership is long, but she commented on the fact it was clear the family would be wonderful homeowners. So many partners came together to make this HOME and this DREAM a reality. And it all comes together because people give from their heart. "This is something we should enjoy and celebrate, today and every day."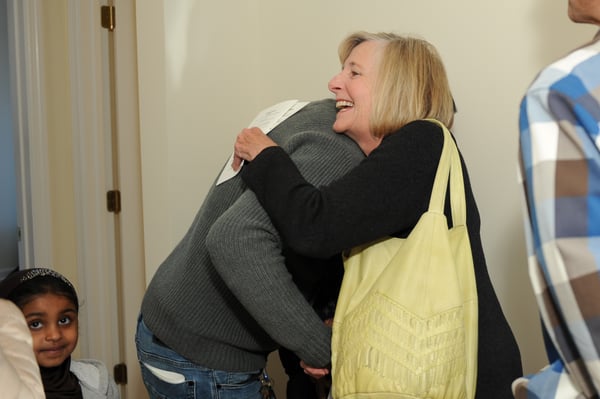 "When the kids grow up, we will pay back the community and want to help build a home as well."
-Farhiyah Mohamed
Skip Durocher closed the ceremony with a dedication litany, golden rule, and Bible presentation to the family. Durocher is one of the newest TCHFH board members and this was his first time speaking at a home dedication. His words focused on faith and love; "While Habitat for Humanity is a Christian based organization, it is so important that we celebrate and share in different faiths as a community." He presented the family with the Golden Rule, a plaque with phrases in many religions from around the world. "By welcoming this family to this home, we want to do so where it will not only be a place of physical safety, but spiritual comfort and rejuvenation as well."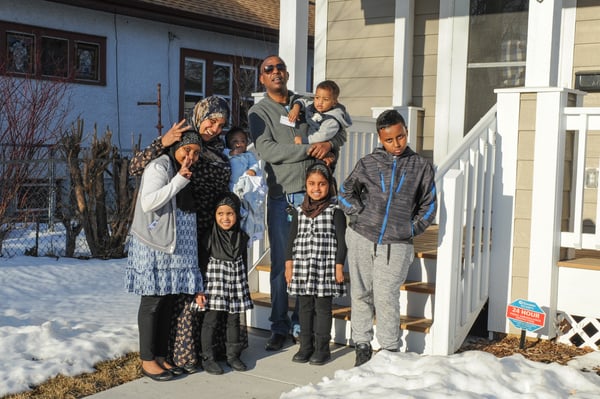 As the ceremony closed, we all came together to share in delicious food and conversation, getting to know one another a little bit more, strengthening our community in love. You could almost hear the house shift into a home that night. As the children smiled and laughed, their joy amplified the transformation, and the wide-eyed disbelief that was there when they first walked in melted away. They knew they were home.