Wayne Atkins was an extraordinary leader and co-founder of Twin Cities Habitat's Entrepreneurs House, a community service project for the local entrepreneurial community. He passed away on March 11, 2014, after a long battle with cancer. In memory of Wayne, the eHouse Steering Committee and Twin Cities Habitat for Humanity have dedicated this year's house: "The 2014 Wayne Atkins Entrepreneurs House."
"In true entrepreneurial fashion, Wayne co-founded and helped build the Entrepreneurs House program from the ground up," said Mik Gusenius, Chair of Entrepreneurs House. "Wayne is missed dearly, but his spirit lives on in all of our volunteers and sponsors. His vision and dedication made the program what it is today, and we look forward to building future Entrepreneurs Houses in Wayne's memory for years to come."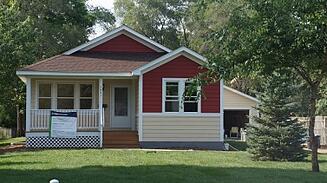 Wayne's career was spent working with entrepreneurial businesses and investment firms; companies that were too small to sponsor a Habitat home on their own. That's where Wayne and his good friend, John Bergstrom, got the idea for Entrepreneurs House. Entrepreneurs House – affectionately known as eHouse – was designed to bring dozens of companies, investments firms and other smaller businesses together to build and sponsor a Habitat home. Cherry Tree, RiverPoint Investments, Calabrio and Pearson Vue are just a few of the many program sponsors. Started in 2003, eHouse was very dear to Wayne. Over the years, he watched it grow to a program that has raised more than $1 million for Habitat for Humanity. Last year, the program reached a decade of building, and Wayne is featured in the video below celebrating 10 years of Entrepreneurs house. In the video, Wayne shared how he believes Habitat homeowners have the same "entrepreneurial spirit" as the companies helping to build the home.
This year, a group of entrepreneurial companies, investment firms, and other firms came together to build a Habitat home in the city of Crystal. Construction of the home began on June 2, 2014, and according to Site Supervisor Eric Weatherman, the build went "incredibly fast, was very efficient and produced high quality work." The home also has a plaque placed along the front walkway, as a permanent recognition to Wayne and his efforts.
Eric also shared that many of the volunteers working on the home knew Wayne personally, and that a number of people shared that they felt this year's build was especially important, because of Wayne's significance to the Entrepreneurs program.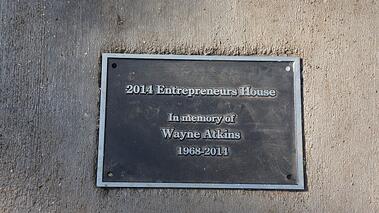 "This year, over 35 entrepreneurial companies teamed up to raise over $100,000 and provide over 700 volunteers to build the 2014 Wayne Atkins Entrepreneurs House," said Kate Loe, Director of Donor and Volunteer Development at Twin Cities Habitat for Humanity. "That's the beauty of this program – it brings entrepreneurial companies together and allows them to pool their resources to provide the volunteer labor and funding necessary to build an entire home. Since the program began in 2003, Entrepreneurs House has raised more than $1 million for Twin Cities Habitat for Humanity and 12 families have been able to purchase safe, affordable homes."
The 2014 Wayne Atkins Entrepreneurs House has been matched to the Siralkhtim Ahmed and Abeer Mohammednor's family, whose dream has been to own their own home so that they can invest in it. Siralkhtim and Abeer have five children: Mohammed (14 yrs), Ali (11 yrs), Hamza (9 yrs), Naba (6 yrs), and Azam (3 yrs). They put in a number of their sweat equity hours on-site, with the goal of learning as much as possible about maintaining their future home.
In addition to the Habitat partner family, Wayne's family and neighbors were also on site for a number of days, helping to build the home. Many of them shared how great it was to have an opportunity to experience and see firsthand what Wayne did in his spare time.
"Wayne was deeply involved with Twin Cities Habitat for a long time," Eric shared. "And the beauty of the Entrepreneurs House is that he joined with a few people, and took the initiative and tapped his network - both business friends and acquaintances- to come volunteer. That's pretty incredible. You can't think of many people that would do that much work to get that many people involved. By himself, he recruited many companies, hundreds of people and brought in thousands of dollars. He was just an amazing guy."
The Wayne Atkins Entrepreneurs House and the Ahmed/Mohammednor family will be recognized later this year, during the Habitat Home Dedication Ceremony. Volunteers, neighbors, staff, friends, family and other community members are invited to attend this celebration of Wayne's work, and a new beginning for a Twin Cities family.