By Anne Thul
Twin Cities Habitat Staff
Although Karin O'Connor stated "It's not about me, it's about the whole community coming together to make a difference," this article is actually about Karin. It's about her eight years of dedication to Twin Cities Habitat for Humanity families as a volunteer.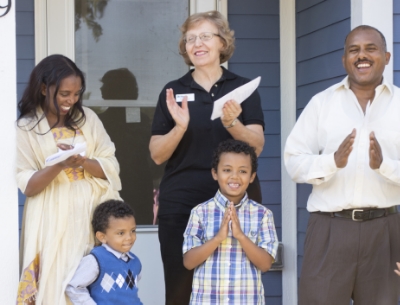 Karin was introduced to volunteering with Habitat through a group build day when she worked for Allina Health. She then attended the dedication of that same home. The dedication was so inspiring, that she asked the person next to her, "Where do I go to sign up?" That person was TCHFH President and CEO, Sue Haigh. Soon after that day, Karin attended a volunteer orientation and joined the Events and Dedications Committee. Karin is often the emcee at Habitat home dedications, leading the program where the families, volunteers, donors, and supporters come together to celebrate the new home. "I love to talk and I love to watch families come together, to see their hopes and dreams realized." (Pictured right: Karen emceeing the dedication of a home for the Araya/Nugusie family in Crystal.)
Karin enjoyed interacting with Habitat homebuyers so much, she was able to use her skills from working at Allina to teach classes on health and safety. Habitat Homebuyers take 11 classes as part of their preparation and commitment to purchasing a Habitat home. Currently, Karin leads a class working with homebuyers to discuss what it means to be a good neighbor. Through her two main positions at Habitat, she sees first time homebuyers starting out the process to purchasing their Habitat homes and then sees them at the end of the process, the home dedication. "I love cake, and being able to lead a homebuyer class, is definitely the cake. Being the Emcee at home dedications is the highlight of my life, it's the icing on the cake."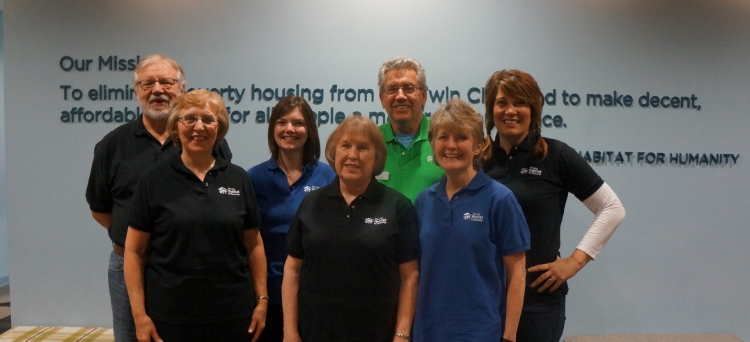 Thank you, Karin, for your dedication to Twin Cities Habitat for Humanity families. We look forward to seeing you at many more dedications with lots of cake! (Pictured above: The Event & Dedications Committee: John Hensrud, Karin, Nicole Smiley, Virginia Vogt, Win Curtiss, Susie Deshon, and Sue Paulson.)
For more information on volunteering with Twin Cities Habitat for Humanity, please login at volunteer.tchabitat.org and sign up for one of our upcoming Volunteer Orientations.