Should I stay or should I move?
Today, most low-income homeowners prefer to stay in their current homes and communities. However, the decision to stay at home or move to alternate housing can be difficult. Remaining in one's home makes sense if a person can get the necessary supports to live safely and comfortably.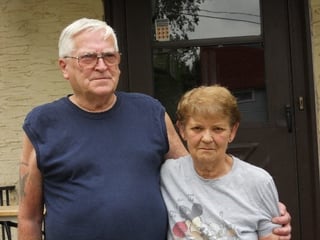 A combination of demographic and economic shifts is creating a large and growing need for affordable and age-appropriate housing opportunities for older adults. With only 4% of current single-family homes appropriate for aging in place, there are two main options to alleviate the demand; either dramatically increase the number of affordable homes being built with universal/age friendly design or begin retrofitting and modifying our existing housing stock.
If someone is going to continue living in their home (age in place) to an advanced age, they will at some point require significant outside support. For many, this support comes from family caregivers. For older homeowners who do not have support, their home can become overwhelming to live in. Those who are on a fixed income and with limited support usually end up feeling over-housed and more likely have unattended health and home maintenance issues. Home and community based services such as transportation (for things like grocery shopping or medical appointments) and home modifications (assistance to overcome stairs or poor lighting) are critical for older homeowners to successfully stay in their homes.
When older homeowners on a fixed income must choose between paying for medications, utilities, and food, other critical needs, such as home modifications and maintenance, don't become a priority until a major health emergency (such as a fall) or home issue (such as leaking plumbing or roof) brings the need to an unavoidable crisis. So, when money is tight and trusted relationships are not available to help navigate resources, staying at home can be a challenge.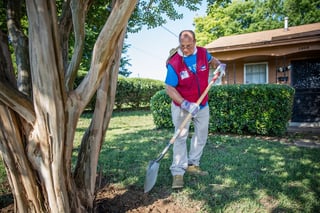 Yet, older homeowners looking for supportive services often have few affordable options. Finding appropriate resources can also be a barrier to staying in one's home. Those who do not have family or other social supports to assist them, find that looking for services can be daunting. As the older population increases many Twin Cities organizations are searching for ways to expand to meet the growing need for affordable services.
That's why Twin Cities Habitat for Humanity is creating a new program that is building on our work with seniors through our home repair program – A Brush with Kindness. We know that sometimes the most affordable options for aging homeowners is to stay in the home, even as their physical needs and capabilities change. We have talked with over 70 other organizations that serve the needs of aging homeowners to better understand how we can collaborate to help homeowners continue to live safely and independently.
How to get involved
Our first step will start this fall with a chore services program staffed with volunteers to help up to 10 homeowners with outside chores. We will need volunteers for half days, Saturdays, and throughout the week to rake leaves, clean windows, prepare gardens, perform yard clean-ups, as well as other chore services. If you're interested in volunteering, please contact our volunteer services staff at volunteer@tchabitat.org.
We are also talking to health care providers in the Twin Cities about better collaborating to target home modifications and critical home repairs specifically designed for aging homeowners – stay tuned as those opportunities become better defined! For other questions about our program interest for aging homeowners, contact Pat Lund at pat.lund@tchabitat.org.