Gwen is a longtime resident of Minneapolis. She and her husband Bruce love their home and their neighborhood. They have raised a family and continue to be caring neighbors in their community. They both plan (and hope) to stay in their home as long as possible.
However, these days, Gwen has difficulty getting out of her home or even moving around inside. She struggles to navigate stairs and complete basic care tasks. Gwen suffers from rheumatoid arthritis, which keeps her from fully enjoying life.
Gwen is like many aging homeowners in the Twin Cities who want to continue to live in their home, but find it challenging to get the assistance to continue to make that possible. The need to assist folks like Gwen is rapidly growing. Today, for the first time in U.S. history we have more people over 50 than under the age of 18. Those over the age of 85 are the fastest growing demographic in the country.

Over the next 15 years, the Twin Cities will see its population over age 65 double and in some suburban areas more than quadruple. However, our homes and communities are not ready for this major demographic shift. Only 3.8% of our homes are adequate for those individuals with moderate mobility difficulties.
Habitat believes helping homeowners fulfill their desire to live in their home as long as possible makes sense financially, because of the high costs associated with assisted living communities, and it is a great way to honor and support this growing portion of our population. Homeowners deserve to be able to live with their memories and continue to dream in the homes they've owned and loved for years.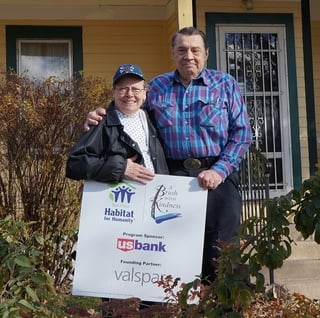 That's why Twin Cities Habitat is working to develop an Age in Place program that will partner with aging homeowners to adapt their home and make it more accessible to allow homeowners to remain in a safe, stable home. The work will build on all the expertise that Twin Cities Habitat has developed partnering with older homeowners over the past two decades through its paint and repair program, A Brush with Kindness.
Habitat for Humanity has also formed a national partnership with AARP to focus on this work.
But we can't do it alone.
As we continue to develop our Age in Place program, we are meeting with other agencies that provide complementary in-home services to low-income homeowners for possible partnership opportunities that would create a broad, holistic approach to aging in place. If you, or someone you know, are interested in learning more about what a partnership with Habitat in this area might look like, please contact Pat Lund at pat.lund@tchabitat.org.