Twin Cities Habitat for Humanity's Age in Place program provides services for older adults to modify their homes so they can continue to live safely and affordably.According to the Centers for Disease Control and Prevention National Center for Injury Prevention and Control, 2.8 million older people are treated in the emergency room for fall injuries each year. With this in mind, Twin Cities Habitat looks for ways that homeowners can make simple, inexpensive home modifications to prevent falls. Most items listed below can be found at your local hardware store.
Lighting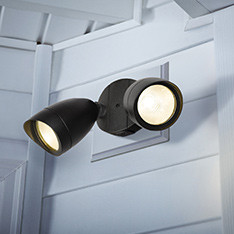 There are simple changes to lighting that can save you a trip to the hospital. It is common to get up in the middle of the night, whether to go to the kitchen or bathroom, or to let the dog outside. The trick is finding the lights and avoiding a fall. Using light bulbs with the highest watt or LED bulbs will bring the most light into the darkest, hazardous places at home. AARP suggests installing nightlights leading from the bedroom to the bathroom and floodlights outside the steps of the home. These are two changes that are low-cost.
Clutter
Decluttering your home is a great way to reduce the risk of falls and it costs next to nothing. This means picking up items that are tripping hazards, especially in high risk areas like the stairs, bedroom, and bathroom. Make sure that exposed cords from lamps, computers, etc. are tucked away.
Stability
While decluttering, you might notice items in the home that are loose. Check to see if carpeting is secure and remove all rugs that are potentially dangerous. For little cost, residents can install railings and grip bars in hallways, bathrooms, and staircases. AARP highly recommends changing door knobs to grab handles for a more balanced grip when opening doors. Also, with winter at our door, it's key to keep the entrance to your home heavily salted.
While it is important to look for ways to change your home, it is just as crucial to improve your balance to lower the risk of falling.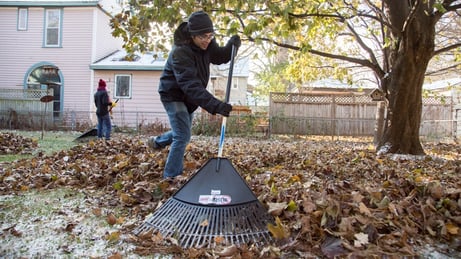 At Twin Cities Habitat, we are excited to continue our Age in Place program by providing chore services for older adults. We are still looking for volunteers, participants, and group leaders to partake in our next round of services in April. If you're interested, please contact our Volunteer Coordinator at volunteer@tchabitat.org or fill out the form below.
Sign up here to be notified when Age in Place Chore Services opportunities become available