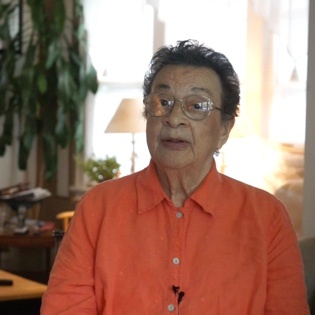 Barb has lived happily in her South Minneapolis home for more than fifty years. She raised a son and a daughter there and is deeply connected to her neighbors and community. "I would not want to live anywhere else," she says. Fortunately for Barb, Twin Cities Habitat for Humanity (TCHFH) was able to do some repair work on her home through our "A Brush With Kindness" (ABWK) program. Unfortunately, like thousands of other seniors, Barb will likely need much more help to stay in her home over the next few years. Stories like hers are among the reasons TCHFH is developing a new Age In Place program.
Nationwide, 10,000 people turn 65 every day. Like Barb, ninety percent of those over 65 want to continue to in their home as long as possible. They want to stay in the neighborhoods where they built their lives and raised their families. But many of this cohort will not be able to stay in their homes without significant help. Planning for how to care for this population has become urgent. Despite the challenges, aging in place is the best approach.
Healthcare costs are projected to increase by 25% by 2030. That reality means simply building more nursing homes or assisted living facilities is not the answer. It costs an average of $3300 per month for an assisted living residence. Nursing home care averages around $6700 per month. Compare those with a cost of slightly over $1000 per month for a home and community based services, and you start to see why aging in place makes so much sense.
Yet, most of the existing housing stock is not designed to accommodate people's needs as they age. The repair work ABWK did means Barb can stay in her home, but only for a little longer. To stay in the home for any extended period, home modifications are needed. Some are simple, like grab bars or railings and better lighting to prevent falls – the number one cause of injuries to seniors. Other modifications for seniors like Barb can be much more extensive, and expensive.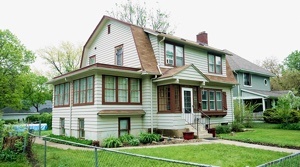 Barb lives in a two-story house, but she is on crutches due to health problems. Climbing stairs to her bedroom and bathroom, or going down to the basement to do her laundry is problematic. She'll need her laundry moved to the main floor, (right now her daughter comes to the house to do the laundry). Barb will also either need to have a stairlift installed, or have bedroom and bathroom facilities built on the main floor. These projects are beyond the budgets for most seniors living on fixed incomes.
"I'm lucky," says Barb. "I have a son who helps with little things around the house and a daughter who helps with my laundry, even though she's got a disability." Not all seniors are as lucky. Many are left to fend for themselves and to try and navigate the thousands of aid organizations and the complicated and confusing procedures by themselves.
Twin Cities Habitat is preparing for this rapid rise of older homeowners wanting to stay in their homes by looking for creative ways to expand our existing services for older adults like Barb. Habitat is well positioned to make a significant contribution in helping aging homeowners adapt and remove barriers to aging in place. We have the experience working with older adults, construction expertise and a large volunteer base that can partner with senior homeowners to help them successfully age in place.
Habitat believes homeowners should be able to fulfill their desire to live in their home as long as possible and we want to be part of a supportive community to help aging homeowners live where they want for as long as they can.
This national movement is a pilot project in partnership with Habitat International. It will create an environment where the older adults can continue to learn and contribute, maintain a healthy lifestyle and receive support services necessary to age successfully in their homes. Communities are more stable when older homeowners remain in their homes.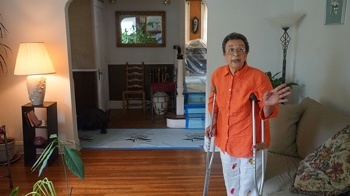 Twin Cities Habitat will not simply launch a stand-alone program, however. From research we've done so far, to age successfully people need not only a safe and healthy home but meaningful connections, purpose in life, access to vital services and a way to navigate those resources. Barb reflected on her years in her neighborhood. "When I walk out of my front door," she says, "I get waves from my neighbors and all the children. They all know me, and I know them. I don't want to lose that."
Given the broad needs of seniors to successfully age in place, our approach to creating this program will be holistic. It will develop a coalition of organizations working together to address a broad and coordinated spectrum of resources. Habitat will focus on the home environment. Other agencies will focus on things like health, hunger, transportation and other vital in-home services. And Habitat will create tools and systems that will help seniors make sense of a confusing array of services, organizations, and resources.
Our work may expand from critical home repairs to safety modifications, seasonal maintenance services and educating homeowners and the public on home safety tips to successfully age in place. Services will provide our community may include: installing grab bars, creating a walk-in shower, bringing a washer and dryer up from the basement or using our wonderful volunteers to check on a neighbor to see how their home is working for them. Whatever services we do provide they will come out of what we find by talking to community stakeholders.
Over the next four years we will spend time researching the aging in place field. We will, build partnerships, develop program activities, pilot projects and launch a program that makes a significant impact in helping homeowners stay in their home as long as they can.
Our goal is to create an Age In Place program that builds on our strengths and coordinates services with other community partners. It will allow older homeowners to successfully age in a safe, stable home as long as possible.
"With the help of A Brush With Kindness I've been able to stay in my home, so far," says Barb. "I'm so thankful for Habitat has done for me. I pray they will be able to help me to stay in my home for a long time to come."