Wells Fargo granted $150,000 to Twin Cities Habitat for Humanity's Age Well at HomeTM program, which takes a person-centered approach to home modification services for older homeowners.
Wells Fargo's investment supported 15 home modification projects for Twin Cities homeowners over the last year. Home modifications included ramps, grab bars, additional lighting, safe flooring, stair lifts, lift chairs additional railings, hand-help showers, and many more. Age Well at Home's unique approach brings health and housing professionals together to create a safer home environment while supporting healthier homeowners.
"Preservation of naturally occurring affordable housing is critical to Habitat's mission – especially for seniors," said Chris Coleman, President & CEO of Twin Cities Habitat for Humanity. "Wells Fargo's support greatly impacts the ability of these older adults to remain healthy in their homes for years to come."
Twin Cities Habitat launched its Age Well at HomeTM program (formerly known as "Age in Place") in 2018 following a model designed by Johns Hopkins School of Nursing called Community Aging in Place – Advancing Better Living for Elders, or CAPABLE. Twin Cities Habitat's program combines healthcare and housing services to collaborate with older homeowners to improve their ability to live healthier and safer at home.
Wells Fargo has contributed more than $5 million to Twin Cities Habitat's various programs and its team members have volunteered on more than 160 homebuilding and home repairs projects. Laurie Nordquist, Upper Midwest Lead Region President & Minnesota CEO at Wells Fargo, has served on Twin Cities Habitat's Board of Directors since 2019.
In addition, Wells Fargo is supporting Habitat for Humanity's first-ever nationwide advocacy campaign in the United States, Cost of Home. Through the Cost of Home campaign, Habitat will mobilize volunteers, community members and partners throughout the U.S. to find solutions and help create policies that will allow 10 million individuals to meet their most basic needs.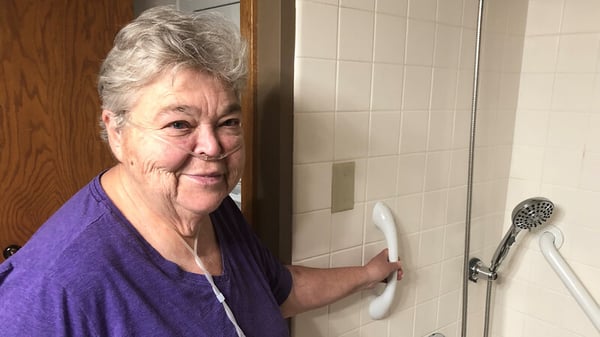 An Age Well at Home client, Linda, with shower upgrades including grab bars and a hand-held shower head.
More about Age Well at HomeTM
Twin Cities Habitat partners with Allina Health and Hennepin Healthcare to help identify older patients who would benefit from home modifications. The on-site work is then carried out by Habitat staff and subcontractors, with some opportunities for volunteers to build accessibility ramps.
In its first 18 months, the Age Well at Home program has upgraded more than 60 homes in the Twin Cities metro area.
"As innovators in creating and preserving homeownership, Twin Cities Habitat identified a critical need that we could help solve," said Pat Lund, Age Well at Home Program Manager. "Allina Health and Hennepin Healthcare recognize many patients cannot afford to install recommended modifications and see the value Habitat could give their patients."
Twin Cities Habitat is seeking additional healthcare partnerships to grow its Age Well at Home services. The organization is building on 20 years of expertise through its A Brush with Kindness home repair program, which has served more than 2,000 homeowners, at least half of whom were elderly.
The Minnesota Department of Human Services (DHS) is helping fund this work via a Live Well at Home grant. These DHS grants expand the capacity of long-term service organizations and support people age 65 and older staying in their homes and communities of choice.
A $1.25 million grant from the Harry and Jeannette Weinberg Foundation to Habitat for Humanity International is supporting new Age in Place programs in five U.S. cities (Twin Cities, Denver, Philadelphia, Metro Maryland, and Susquehanna). The programs are based on a model designed by Johns Hopkins School of Nursing called Community Aging in Place – Advancing Better Living for Elders, or CAPABLE. The CAPABLE model combines nursing, occupational therapists, and Habitat's expertise in home repairs.
This is the first time CAPABLE deployed in Minnesota. Other local foundations, businesses, and philanthropic individuals have made gifts to help develop the Age Well at Home program at Twin Cities Habitat. With 30 Habitat affiliates across the state, Twin Cities Habitat sees significant opportunity for growth with additional resources.
Johns Hopkins research suggests a six-to-one return on investment: for every $1 invested in the CAPABLE program, $6 are saved in future healthcare costs.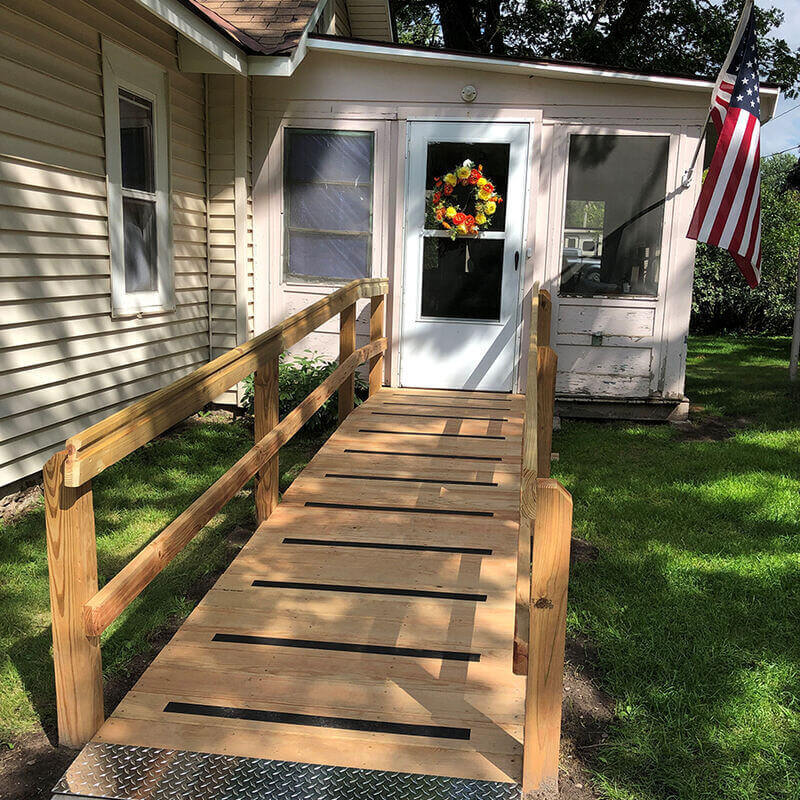 One client's new mobility ramp
The need by the numbers
The Twin Cities 65+ population will double in the next 15 years and accounts for one-third of Minnesota's homeowners. Most (80%) express a desire to age in place.
Housing stock is also aging. Less than 5% of current Twin Cities housing stock is built to allow those with moderate mobility issues to safely navigate.
Falls are one of the top reasons older adults need to move from their homes.
A 2016 Wilder Study revealed that Minnesota has more than 15,000 (6,000+ in the metro area) senior, low-income homeowners that need help modifying and repairing their homes to successfully age in place.