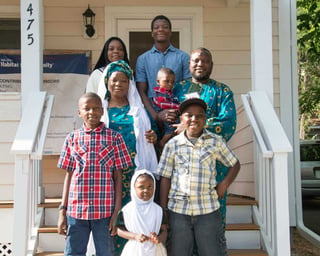 You may be familiar with Twin Cities Habitat for Humanity's Homeownership Program. The program is designed to help first-time homebuyers achieve their dream of owning a home through an orientation, application process, and financial coaching. But did you know that TCHFH Lending, Inc. provides its own mortgage product to help homebuyers finance the purchase of their home, too?
Here's how the home loan works:
The Mortgage Loan Process
Before you begin shopping for a home, you will meet (virtual meeting during COVID-19 pandemic) with our Community Loan Officer to receive a mortgage preapproval. This preapproval will tell you how much you can afford in a mortgage, so that you can narrow your search to just those properties within your price range.
Once you have found a home to purchase you'll sign the purchase agreement on your home. This agreement simply states that you are agreeing to buy the home.
As the pandemic continues to affect our lives, it may be wise to add an addendum to the purchase agreement. This will give you some flexibility to get out of the purchase contract for certain COVID-19 related reasons. Your real estate agent can help with this.
Next, you'll need to apply for a mortgage. Our loan officer will walk you through the application and collect supporting documents that prove your income, assets, and mortgage readiness. Once we have your application we will provide you with disclosures within three days. These disclosures lay out all the terms of what your mortgage will look like. Our loan officer will set up another meeting (virtual meeting during COVID-19 pandemic) to walk through the disclosures with you to ensure you understand all the terms of your mortgage. This way, you'll be well aware of what you're signing.
After you provide a signature identifying you would like to move forward, the underwriting process will begin. During this process, we make sure you meet all mortgage criteria. This includes things like making sure your income is sufficient to make your monthly mortgage payment, you have the necessary savings, and that an appraisal has been completed on the house.
If you're concerned about your eligibility because of how you or your family has been impacted by COVID-19, please ask your loan officer for guidance. It's an uncertain time, and we're here to help.
After we have determined that all mortgage criteria are met, the final thing to do is close on your home.
The length of the mortgage loan process varies. On average it takes a first-time homebuyer 30-60 days from the time they complete the application to the time they close on a home. Make sure you meet requirements before submitting an application, have all your supporting documentation, and respond in a timely fashion to help make the process go smoothly and quickly.
Standard Mortgage Loan or Rehab Mortgage Loan
We offer two different types of loans. We have one mortgage that finances the purchase of your house and another mortgage that finances the purchase of your home and some light rehab that may be needed on the property. For borrowers who receive the rehab mortgage, Twin Cities Habitat for Humanity will partner with them to complete the rehab before they move in. For both types of mortgages, monthly housing payments are set at 30 percent of the homeowner's gross income. Visit our website for a full list of our mortgage terms.
Gap Assistance and How It Can Help
At Twin Cities Habitat for Humanity, we strive to get first-time homebuyers into homes they love at a price they can afford. It can be difficult for some to purchase a home in the market because of requirements for a down payment. Twin Cities Habitat for Humanity has some funding available to help homebuyers close the gap between what they can afford and the cost of buying a house. This down payment assistance usually requires another mortgage on the property with 0% interest and deferred payments, meaning you don't have to make monthly payments.
So, whether you're buying a home built or rehabbed by Twin Cities Habitat for Humanity or found an existing one on the open market, TCHFH Lending, Inc. can help you finance it. Our goal is to help you seamlessly purchase your first house, and make it a place you'll call home for years to come.
If you have further questions about our mortgage loans, we have the answers. Click here to contact our team of experts.