The biggest consideration when making any large purchase decision is how you're going to budget for it. And for most people, buying a home is the biggest purchasing decision they'll make in their lifetime. So you can imagine how important it is to work with a financial professional when saving for your first home. That's where a Homeownership Advisor comes into play.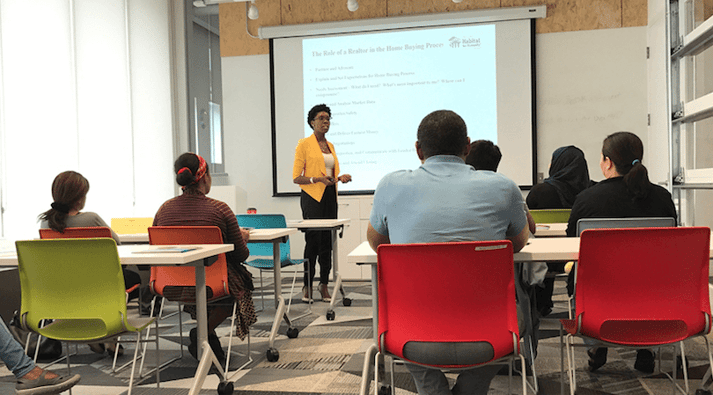 Here at Twin Cities Habitat for Humanity, we have a team of advisors dedicated to helping our first-time homebuyers. But what exactly is a Homeownership Advisor and how can they help you? Let's take a look:
What is a Homeownership Advisor?
A Homeownership Advisor is someone who can help you with budgeting, reduce your debt, and generally handle your finances. The Homeownership Advisors at Twin Cities Habitat for Humanity are trained to get our clients mortgage-ready in one year or less. They help clients develop a plan towards mortgage readiness and help keep them stay on track with that goal. That means working on reducing debt, making a plan to save for a down payment, and helping to build credit or improve credit scores.
Whether or not you're interested in our Homeownership Program, you can work with your own Homeownership Advisor to get a handle on your financial planning.
How Does it Work?
In most cases, you'll meet with a Homeownership Advisor on a regular basis. First, you make a plan, then you track your progress and adjust accordingly.
Managing your finances is a little bit like dieting – it's an ongoing process. A healthy diet is something that becomes a part of your life, just as a healthy budget needs to always be considered in every purchase decision. An advisor will help you stay on track with your financial goals. These goals include:
A quality credit score (typically 670 and up)
A low debt-to-income ratio (DTI)
Down payment savings (typically around 10%-20% of your home's target price)
And more!
In your regular sessions with your advisor, you'll review how you spent your discretionary dollars and what you can do differently to better plan for your future.
How Can a Homeownership Advisor Help You Buy a House?
Regularly reviewing and sticking to your budget and meeting with financial experts is good practice if you have dreams of homeownership. Working with an advisor can help you save for a down payment and develop habits to maintain a healthy credit score, which is a big factor in getting a lower mortgage rate on your first home.
At Twin Cities Habitat for Humanity, we have many DIY budgeting resources available. On our YouTube channel, Homeowner Development Manager Pa Lor hosts a series of videos with tips on credit score, debt, credit cards, down payments, and so much more. It's all to help you understand what you need to get ready for your first home.
If you're a qualified first-time homebuyer, schedule a meeting with one of our Homeownership Advisors to take the next step. You can also learn more about our Homeownership Program today and discover how you can buy a home you love with a mortgage you can afford. We're here to help!