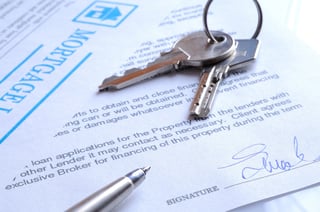 Shopping for your first home is an exciting experience. After all, it's really the first place you can call your own! While finding a house that you're really happy with is important, so is finding a good interest rate on that home mortgage. But if this is your first go-around, you may not be familiar with interest rates. How do you know what's considered a "good" interest rate if this is your first home mortgage?
We'd like to help you understand mortgage interest rates so that you can feel confident in your decision. Asking yourself these questions will help you determine whether or not you're receiving an interest rate that feels reasonable.
Does the Interest Rate Match My Qualifications?
First, it's important to note that market trends can have an affect on the interest rate borrowers are presented with. This is something they do not have control over. As a borrower, it's always a good idea to do a little homework and brush up on your knowledge of current interest rates. This may even give you greater ability to negotiate a better interest rate with a lender, too.
There are some individual factors, however, that you'll want to keep an eye on. Your monthly income, monthly debt payments (such as student loans) and monthly expenses (such as utilities), your credit score, and your down payment all play a role in the different rates you're receiving from various lenders.
For example, if your credit score is less than 620, you may not get the lowest interest rate. The same is true for the size of your down payment. Generally, large down payment will help you get a lower interest rate. (Here's a more in-depth explanation of those factors.)
Can I Afford the Monthly Mortgage Payment?
Many lenders don't advertise this, but it's important to note that just because they might be willing to give you a higher loan, doesn't mean you have to accept the full amount. In other words, it's your responsibility to decide what's an affordable loan to take on and where your comfort level is. Your comfort level might be somewhere below the loan amount set by a lender.
Even so, many first-time homebuyers need guidance. It's often recommended that borrowers should spend no more than 28%-30% of their gross monthly income on a mortgage payment.
Can I Afford the Closing Costs?
Closing costs vary but you can expect them to cost between 3% and 5% of the purchase price of the house you wish to buy. A lender will give you an estimate of your closing costs on your first home mortgage, but it would be smart to budget 1% more just in case the estimate is lower than the actual costs.
More importantly, you will have more room to negotiate closing costs when you are viewed as a "strong borrower" (someone who uses credit wisely and handles loans responsibly) and a "good risk" (someone who is likely to repay their loan on time) in the eyes of the lender.
Does a Fixed- or Adjustable-Rate Mortgage Make More Sense for me?
A "good deal" on your first home mortgage also depends on if you've selected the right type of loan. You face two basic choices: a fixed- vs adjustable-rate mortgage. Both have advantages depending on how long you think you will stay in your first home.
A fixed-rate loan makes sense if you're planning to stay in your home for at least five years because the rate will stay the same for the entire term of the mortgage. But if you're planning to be in your first home for only a couple years, the lower rates offered in the first few years of an adjustable-rate mortgage might be a better choice. In fact, this type of mortgage was created specifically for this reason.
How Do I Know If I'm Working with the Most Affordable Lender?
The truth is, you really won't know if you are getting a good interest rate on your first home mortgage unless you compare rates from different lenders. Once you've compared, you can choose the lender who provides the best rate. That lender will answer your questions and get you the best loan terms.
We highly recommend exploring your options, because you may even qualify for an affordable first mortgage with mortgage assistance. As a wholly-owned subsidiary of Twin Cities Habitat for Humanity, TCHFH Lending Inc. – for instance – provides affordable mortgages to low-and-moderate-income households across the Twin Cities' seven-county metro. Click here to learn more about the criteria of this unique loan opportunity.