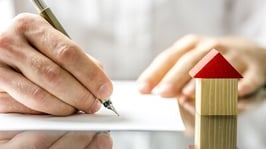 Buying your first home is a complex process (here's a guide that could help you). A big part of it is selecting the right mortgage. It's a financial commitment that will eat up a significant portion of your income and could impact you for decades, so it's critical that you make the right decision. The information below can help you decide which mortgage(s) may be right for you.
VA Loans
These are mortgages offered by traditional lenders that are backed by the U.S. Department of Veterans Affairs. They are only available to military members, veterans, and their families. There are several benefits including competitively low interest rates, limited closing costs, no down payment, as well as no mortgage insurance payments.
USDA Loans
If you are looking to buy a home in a rural area (outside the Twin Cities) you should consider a mortgage from the U.S. Department of Agriculture. You have to meet the income requirements (earning below 115% of the median income for the area). These mortgages do not require a down payment and offer competitively low interest rates.
HUD Rehab Loans
If you're considering buying a home that may need some work, a rehab loan backed by the U.S. Department of Housing and Urban Development (HUD) could help you. You would take out what is called a 203(k) loan. This program allows you to borrow enough money to both purchase a home and make needed repairs to it. Since the government helps insure this type of loan, you must go through a Federal Housing Administration (FHA) approved lender in order to qualify for and receive a 203(k) loan.
FHA Loans
The FHA supports other loan programs around the country for first-time buyers with lower incomes. The loans have low down payment requirements (as low as 3.5% of the home's price), low closing costs, and a simplified credit approval process. You do have to work with a lender that is approved by the FHA.
Start Up from Minnesota Housing
Minnesota's State Housing Finance Agency offers downpayment and closing costs loans to income-qualified borrowers. The program is called Start Up and eligible borrowers can access up to $17,000 in support. These loans have no interest and are not required to be repaid until the first mortgage on your home is paid off. These loans can be combined with other first-time homebuyer programs.
Private Lenders
Some banks and other lenders (including individual counties and cities in Minnesota) offer special mortgages for first-time homebuyers. However, the details (interest rate, terms, availability, etc.) change regularly. The Minnesota Homeownership Center's page on industry partners links to a list of the current offerings.
TruePath Mortgage
The TruePath Mortgage is designed to support income-qualified borrowers with long-term affordability. The benefits include:
A 30-year term with low fixed mortgage
Payments set at 30% of the borrower's income
No down payment requirement
Down payment assistance if needed to make the purchase affordable
No mortgage insurance
Closing costs assistance and more financial assistance overall
The TruePath Mortgage is offered through TCHFH Lending, Inc., a wholly-owned subsidiary of Twin Cities Habitat for Humanity. Loans must be used to purchase homes in the 7-county metro area of Minneapolis and St. Paul. A TruePath Mortgage can be used to buy a home built by Twin Cities Habitat or a home that is for sale on the open market.
You can use this calculator to see how the TruePath Mortgage compares to other loans.
Try Our Mortgage Calculator
There are a few important things to understand about the calculator:
This calculator does not determine your actual mortgage amount.
This does not guarantee Twin Cities Habitat can contribute the full assistance amount listed.
To qualify for a TruePath Mortgage, you need to meet all income and other underwriting criteria.
Even if your affordability indicates you can afford more, a purchase with a TruePath Mortgage would be limited to our maximum loan amount.
There is a lot to consider when shopping for your first home. With so many mortgage options, it may feel like a daunting task. Take a look at Twin Cities Habitat's First-Time Homebuyer Guide - it's a good place to start to help make the process smoother, one step at a time.