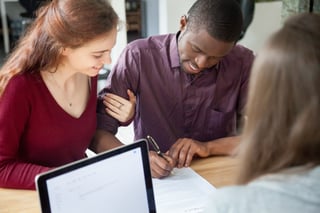 As with any big decision in life, it's a good idea to do your homework. Same is true if you're looking to upgrade your status from home renter, to homeowner. We're not just talking about the house itself or its location (though a little research there is strongly encouraged!). What we're talking about is exploring your payment options.
Though a home loan is something you'll be paying off over time, don't let the word "loan" scare you away from taking the next step. First-time homeownership is an exciting and rewarding experience, and yes, just about every homeowner has had to take out a loan at some point. And just like rentals, there are also ways to make homeownership more affordable.
Whether you want a lower down payment or a lower interest rate, there are many affordable housing loan options available to Twin Cities residents and first-time homebuyers, and we've done some of the homework for you. Here are just a few options to get you started:
The U.S. Department of Housing and Urban Development
The U.S. Department of Housing and Urban Development, commonly referred to as HUD, is one resource for affordable housing loan options for first-time homebuyers. It is well known for offering low-interest loans to low-income homebuyers through The Federal Housing Administration (part of HUD). These loans include low down payments, some as low as 3.5% of the home's purchase price, and closing costs. Although, it's important to note that homebuyers wouldn't go to HUD or FHA directly to get a mortgage, but rather they can get an FHA mortgage through a lender who is authorized to originate FHA mortgages. They could ask any lender if they originate FHA mortgages if they want to look further into qualification.
Minnesota Homeownership Center
The Minnesota Homeownership Center lays out several affordable loan products throughout the Midwest. Some loan products, like the Community Affordable Real Estate Product, are designed for certain geographical locations (such as counties) while others are bank-specific. Other affordable loan products include:
Rural vs. Urban Loans – A loan offered specifically to either a rural property owner or urban property owner.
Rehab vs. New Build Loans – Rehab loans are for the rehabilitation and repair of single-family properties that are important to neighborhood revitalization. New build loans are when a construction loan converts to a permanent mortgage loan after the contractor finishes building the home.
ITIN Lending – These loan products are for those individuals in the U.S. who are not eligible for a social security number. Instead, they have an individual tax identification number (ITIN).
Sharia-Compliant Products – These loan products meet requirements specific to Islamic law and have their own products, services, and contracts that differ from conventional banking.
Loans for Veterans – These loans, provided through the Department of Veterans Affairs, are not only provided to active service members and veterans but to eligible surviving spouses, as well.
Loans for Native & Indigenous Populations – Some loan products are designated for eligible tribes, Indian House Authorities, and Native Americans wanting to own a home on trust land or land located in an approved Indian or Alaska Native area.
TCHFH Lending Inc.
At TCHFH Lending, Inc., we understand the commitment you're making when purchasing your first home, and we want to make the process as easy for you as possible. That's why our mortgage loan product includes:
Fixed interest rate
Monthly housing payments are set at 30% of household income at the time you purchase the home
No mortgage insurance
Down payment and affordability assistance available to finance home purchase
Access to financial coaching and homeownership training classes through Twin Cities Habitat for Humanity
Learn more about our mortgage product and how to qualify.
Our goal is to provide help at your fingertips and to alleviate any worry you may have regarding the homebuying process. And, if you have questions along the way, we're always happy to answers those, too. Contact our team of experts.
Related Articles: