How much do you really pay when you buy a home?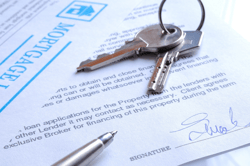 A loan you take out to buy a house is called a mortgage. The mortgage is usually a little less than the selling price of the house (depending on the size of your down payment). But despite the lower initial cost, you will actually end up paying thousands of dollars more.
From the day you take out the loan until you pay it off, the loan collects interest. Interest is what the lender charges for the loan. As the homeowner, you pay back the whole asking price of the home plus the interest.
Every mortgage has its own interest rate. The rate is a percentage of the whole loan amount that gets charged to you every year. This amount is added on top of the amount you owe. The lower your interest rate, the less you pay. It really adds up over time so you want your interest rate to be as low as possible.
Fixed vs. Adjustable Interest Rates
Mortgage interest rates in the United States are currently running between 2% and 4%.
If you have a fixed-rate mortgage, you never have to worry about it changing. Your interest rate will remain the same for the whole life of your loan. You will always know exactly what you owe on your loan every month. The lowest-cost mortgage loans are fixed-rate loans at a low-interest rate.
An adjustable-rate mortgage is different. Your interest rate changes over time. It usually starts with a fixed rate. After a certain amount of time passes, the lender can adjust the rate. The change in rates is based on an "index rate" that is defined by the finance industry. The lender adds a certain amount of profit on top of that.
Adjustable-rate mortgages can be unpredictable. Often adjustable-rate mortgages start with a lower rate than fixed-rate mortgages, but there's no guarantee the rate will stay low. If interest rates are going down in the economy, you will pay less. If they are going up, you will pay more. There is no way to predict this in advance. The economy can change a lot in five years! So, the rates can go up or down.
How Much Do You Pay with Different Interest Rates?
The lowest interest rate is always the best. But how much of a difference does it make?
The median listing price for homes in Minneapolis and St. Paul was $345,000 in September 2021. That means half of the homes for sale were more expensive and half were less expensive.
Let's look at a loan for $345,000. It has a fixed interest rate and will last for 30 years. This is the most common kind of mortgage loan. Some mortgages last for 20 years, but it is unusual.
With a 2% interest rate, you will pay about $114,067 in interest over 30 years – $459,067 total, including principal and interest.


With a 3% interest rate, you will pay about $178,632 in interest over 30 years – $523,632 total, including principal and interest.


With a 4% interest rate, you will pay about $247,949 in interest over 30 years – $592,949 total, including principal and interest.
That's a big difference: Nearly $134,000 more between the 2% rate and the 4% rate. If you're not careful, you'll end up paying for your new home twice over!
Naturally, this changes your monthly payments as well.
With a 2% interest rate, you will pay about $1,275 per month
With a 3% interest rate, you will pay about $1,454 per month
With a 4% interest rate, you will pay about $1,647 per month
How Do Different Mortgage Loan Options Compare?
The figures above represent a conventional home loan. A conventional mortgage is one you get from a bank. The bank will look at your income to decide how much to lend you. Conventional loans usually require a big down payment. If you cannot afford a significant down payment, you might be required to purchase expensive mortgage insurance.
Let's look at two alternative mortgage options and see how they stack up.
FHA Mortgage
The FHA is the Federal Housing Administration. When you take out an FHA mortgage, you don't receive money directly from the FHA. Instead, you get a loan from a lender that follows special FHA rules. These rules are meant to make buying a home more accessible for low- and moderate-income homebuyers.
An FHA loan requires a 3.5% down payment, which is often lower than what is required on non-FHA mortgages.
FHA loan interest rates for the past few years have been between 2.9% and 3.4%:
At 2.9%, a $345,000 home would cost $516,957
At 3.1%, a $345,000 home would cost $530,354
At 3.4%, a $345,000 home would cost $550,803
TruePath Mortgage
The TruePath Mortgage is available only through TCHFH Lending, Inc., a nonprofit mortgage lending subsidiary of Twin Cities Habitat for Humanity. TCHFH Lending, Inc. provides this mortgage for low- and moderate-income households across the Twin Cities metro area. The TruePath Mortgage can require no down payment from the homebuyer with a 2.0% fixed interest rate.*
At 2.0%, a $345,000 home would cost $459,067.
The TruePath Mortgage isn't the best choice for everyone. But if it's right for you, it could save you significant money over the long term.