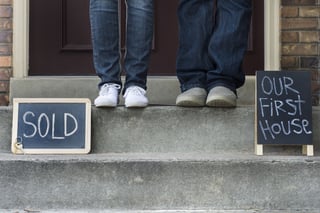 While looking to buy your first home is a very exciting chapter in your life, for some, it can be difficult to look past the down payment. In fact, it can deter people from looking for a home in the first place, which is why some unique loan products now allow borrowers to skip the down payment.
However, while "no down payment required" may sound good for your first home loan, not all loan products are created equal. It's important to understand how mortgages work and whether or not that means paying more money in interest or mortgage insurance later. It's all about the math—and sometimes, the fine print.
Do the Down Payment Math
Saving money for a down payment takes time. And since many first-time home buyers are renters who are used to making monthly lease payments, a down payment is often what can delay, or even prevent, them from purchasing their first home. For many people, then, the question is not, "When can I buy a home?" It's, "How long will it take me to save for the down payment?"
Many loan programs require a down payment of between 10% and 20%. So, on a $200,000 home, a down payment between $20,000 and $40,000 would be required. By contrast, some federal, state, and local home loan programs require a down payment of only 3.5%. On that same $200,000 house, the down payment would come to $7,000.
The words, "no down payment required," may seem like an easy way to homeownership. At this point, it's smart to consider how no down payment will affect your mortgage.
Why Making Even a Small Down Payment Makes Sense
Doing the math on a mortgage is easy—you can even erase the numbers from the equation. Since a down payment represents a percentage of the sales price of a home, two facts are certain:
The lower the down payment, the higher the loan amount and the higher the monthly mortgage payment
The higher the down payment, the lower the loan amount and the lower the monthly mortgage payment
In addition to having less money to pay back, the benefits of making a down payment often include:
Paying less interest over the life of a loan. With no down payment, you would pay nearly $144,000 in interest on a 30-year, fixed-rate loan at 4% interest for the $200,000 home we mentioned earlier. With a $40,000 down payment, you would pay about $115,000 in interest.
Not paying for private mortgage insurance. Lenders require this insurance from borrowers who put down less than 20%. Private mortgage insurance usually costs between 0.5% and 1% of the loan amount.
Getting the house you want if there are multiple offers from other people who want the same house. A seller wants a buyer who offers more than a good price for their house. The higher the down payment, the more evidence that a buyer can actually close a home loan.
How TCHFH Lending, Inc. Can Help
After viewing the full picture, many first-time homebuyers turn to TCHFH Lending Inc. for their first home loan. We offer affordable fixed interest rate mortgages for low- to moderate-income borrowers across the seven-county metro area. Some terms of the home loan program include:
An affordable monthly housing payment set at no more than 30% of gross income
No mortgage insurance
Interested in learning more? Click here for a closer look at our home mortgage criteria. Our team of experts can answer any questions you may have about this affordable loan product. Get to know the members of TCHFH Lending, Inc., who, along with members of our Homeowner Development team, help set homeowners up for success.