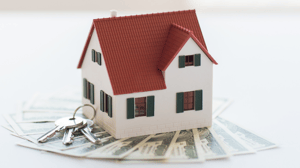 There are many factors that go into determining how much money you will need to buy a house. While you may have considered the down payment and your monthly mortgage payment, there are other fees that go along with purchasing a home that you should also consider, such as ongoing maintenance and utility costs. With the Twin Cities housing market so tight these days, it's good to know what the costs actually are so you're prepared when you start looking for your first home.
Down Payment
The down payment is one of the biggest obstacles most people encounter when buying a home. Traditionally, buyers were told that they had to pay 20% of the purchase price as a down payment, but that's simply not the case anymore. Lenders frequently approve loans with little or no down payment.
For most first-time homebuyers using either a Federal Housing Administration (FHA) loan or low-down-payment conventional loan, the trade-off for the low down payment is that lenders will require you to buy private mortgage insurance (PMI) to protect them against a potential loss should you not pay your mortgage. The rules around PMI vary depending on the loan program, but generally, you can work with your lender to stop paying for the insurance once you have 20% equity in the home.
Programs like the Department of Veterans Affairs (VA) loan or the TruePath Mortgage loan don't require PMI and neither require a down payment on your loan, so if you qualify, they're fantastic options!
One-Time Closing Costs
There are a lot of one-time fees associated with buying a house that you'll need to cover as a part of closing – they'll all be outlined in a document called the Closing Disclosure (CD). There are federal rules that regulate what's included in the CD and how much the amount you pay can vary from the original estimate to the final closing.
Origination Charges: This is a fee charged by the lender for processing your loan. This fee can be anywhere from 0.5% to 1.0% of the loan value.
Appraisal: When you purchase a home, a third-party appraiser is hired to determine the fair market value of your home. Lenders require appraisals to ensure you're not overpaying for the home. The cost of an appraisal can range from $400 to $600.
Credit Report: The lender is typically going to charge you to pull your credit report - expect that to cost you $75.
Flood Certification: Lenders need to know whether or not the home you are buying is in a federally recognized flood zone. If it is – you're going to be required to purchase flood insurance, which can be very expensive. Checking costs from the lender is about $10.
Income Tax Verification Service: As part of your application for a mortgage, you are going to need to provide 2 years of income tax returns, and it's likely that the lender is going to use a service to verify that the documents are legitimate. That fee will add another $10 to your closing costs.
Lender's Title Insurance: Title insurance protects the lender in case there are any issues with the title in the future. While it's rare, mistakes can happen when the documents are filed with the government, and this insurance protects the lender in case such an error occurs.
Owner's Title Insurance: This is an optional fee, but it extends the insurance that you paid for the lender's title insurance to you, the homeowner. While lender's title insurance protects the bank's interest, owner's title insurance protects your interests in the property and ensures you're protected. This is a one-time fee that will protect you for as long as you own the property. The cost varies depending on the insurance or title company providing the coverage.
Settlement Fee: This is the part of the fee that you're paying to the title company to do all of the work that goes into transferring the title from the seller to you.
Title Examination: The title examination is where the title company digs into county records to ensure that the seller has the legal right to sell you the property and that there are no hidden liens or encumbrances.
Taxes & Other Government Fees: You will pay some one-time taxes and fees to the government at closing based on the value of the property.
These fees and taxes can really add up. All told, you can expect to pay 2 - 5% of the cost of the home in closing costs. There are options for how you pay the closing costs – including potentially asking the sellers to help cover some of the cost. While some loans will let you ask for more, it's typical in the first-time homebuyer market for buyers to ask for 3% of the purchase price to go towards closing costs. This can be tricky in a tight housing market because that money comes off of the seller's bottom line.
Also, if you qualify for a TruePath Mortgage, there are closing cost grants that cover everything over $3,000.
Property Taxes
The bank is going to pay your property taxes through what's called an escrow account. In Minnesota, property taxes are paid twice a year in May and October, but to make it easier to pay, the bank will divide the annual property taxes that you owe by 12 and then collect a portion of the taxes every month as part of your payments. If your taxes go up (or down), the amount that the bank collects will adjust accordingly.
Homeowners Insurance
Like your property taxes, the bank will use an escrow account to collect and pay your annual homeowners insurance. If the premium on your insurance changes, so can your monthly payments. It's important to keep an eye on your insurance rates and maybe shop around for the best coverage.
Monthly Payment Reserve
In addition to the other cash on hand that you'll need to purchase your home, most lenders are going to check your bank account to ensure that you can make your first payments before they will approve the loan. The lender will ask for your bank statements showing that you have two times the monthly payment (the term you might hear for this is PITI or principal, interest, taxes, and insurance).
HOA Fees
Condos, townhomes, and some single-family homes are part of a homeowners' association that will collect monthly or annual fees to pay for the work that the association covers. If you're buying a property with an HOA, it needs to be fully disclosed, and under Minnesota law, you have 10 days to review all of the association's rules and regulations. Your real estate agent will be key in helping you navigate this process.
Maintenance & Utilities
The ongoing maintenance costs of owning a home are typically higher than a renter would budget for. (Renters don't have to replace broken toilets, mow the lawn, or deal with snow removal.) It's good to start budgeting right away for the unexpected.
Also, since homes are typically larger than apartments, your utility costs will likely be higher. Before closing, it's a good idea to get an estimate from the current homeowners to see what they're paying for utility costs. Remember, their costs are just an estimate.
Moving Expenses
While you may be lucky enough to have a group of family and friends who will help you move for the cost of refreshments – it's a good idea to budget for movers. Labor, truck rental, boxes, and packing material all add up. The average cost of moving is $1,400, but it can be higher or lower depending on how much stuff you have and how far you're going.
Knowing what the costs of buying a home are and planning for them can make the whole buying process a little less stressful. Don't know where to start saving? Twin Cities Habitat does offer financial coaching. Check out this on-demand information seminar to see if you qualify!