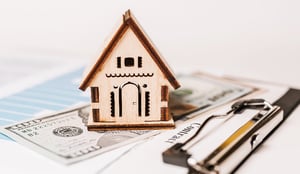 To say the housing market is tough is an understatement. Anyone working in real estate can tell you first-hand stories of homes going for tens of thousands of dollars over asking price - with no contingencies and no consumer protection.
Backing that up, a recently released report from the National Association of Realtors found that since 2019 home prices have jumped 30% (or about $80,000 on a typical home) nationwide. With rising prices, the available inventory is at an all-time low resulting in the Minneapolis Area Realtors calling it "an epic housing shortage."
The reality of the housing market means that many first-time homebuyers are being excluded and disparities in homeownership rates are at their highest level in generations. There is a nearly 30% gap between homeownership rates among white Americans and black Americans - a disparity the Urban Institute says is the largest since race-based discrimination in the housing market was legal.
Home Ownership Rates 2020
White Americans 72.1%
Asian Americans 61.7%
Hispanic Americans 51.1%
Black Americans 43.4%
Source: National Association of REALTORS
Barriers to Homeownership
Affording the down payment on a house is one of the three biggest barriers to homeownership (along with access to credit and affordability). One factor is misinformation about how much you need for a downpayment and where that money needs to come from.
Low-down payment mortgages have been around for years, but in their report about the barriers to homeownership, the Urban Institute found that nearly a third of consumers still believe that lenders expect borrowers to put down 20% and only one in five consumers know that lenders make home loans with 5% down or less.
Nationwide there are thousands of programs that offer down payment assistance - including at least 14 programs here in Minnesota. The programs are varied with some providing grants and some providing low, or no, interest second mortgages to help cover the down payment. Eligibility requirements vary as well leading to a lot of confusion among consumers about how to qualify.
The programs aren't just for low-income households. In Minnesota, the median income for borrowers using down payment assistance in 2016 was $79,000 and more than a third of all home buyers would have qualified for down payment assistance of more than $10,000.
While some criticize the use of down payment assistance, the reality is that they're not significantly riskier than other mortgages. The average default rate on conventional mortgages is about 3% and according to research conducted by the Chenoa Fund, the rate of default for families using down payment assistance is 5%. Additionally, "an educational component for recipients of down payment assistance has been shown to drastically improve loan performance."
So why aren't more people using down payment assistance to become homeowners?
When first-time homebuyers enter the market they rely on their agent to help guide them through the process, and one of the first pieces of advice agents give is to make yourself attractive to sellers by getting a pre-approval letter, and consider what terms and conditions that the seller will be more willing to accept.
With their advice are agents inadvertently steering them away from down payment assistance programs? If buyers are willing to throw away inspection contingencies, what chance do they think they have using down payment assistance?
And on the listing side when you're presenting a stack of offers - how are you presenting the Mortgage Financing information? Are the conventional first mortgages at the top of the list? How about DVA or FHA loans? And where do offers that have subordinate financing, grants, bonds, and other loan assistance go?
"Somehow along the way we have been talked into the idea that a down payment assistance buyer is more of a risk," says Jen LaCroix of Twin Cities Habitat for Humanity's TruePath Mortgage. "In my experience not only is this untrue but it is perpetuating the already huge social and economic divide in Minnesota."
The housing market isn't getting any easier for buyers and rising prices are pushing more people out of the market. Down payment assistance programs are one tool to help get more people into homes - if they're given a chance.