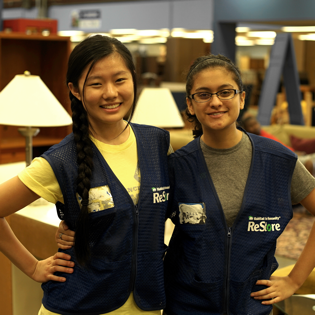 Davina, a soon to be high school junior said, "Learning how to use the power drill made me feel powerful. Very powerful."
Her friend Lisa, who was also volunteering, laughed and added, "It's insanely fun!"
Both girls were talking about their experience volunteering at the Twin Cities Habitat ReStore. The pair have been best friends from ninth grade and they wanted to find volunteer opportunities they could both do this summer. Their goal was to do something good for the community, and get practical experience they could use on college and job applications. When they found the ReStore jobs listed on www.volunteermatch.com, they thought it sounded like fun. "It was also close by," Davina said. "Since neither of us drive, being close made it easier to convince our parents to drive us."
"It's great work experience," Davina said. "I like the fact that we were shown how to do things rather than being 'thrown in the deep end.'"
"If we get a job," Lisa said, "they would probably expect us to already know how to do some of the things we're learning here, so that's nice."
When picking a place to volunteer, both girls said the quality reputation of Habitat for Humanity was appealing. They both thought it would look pretty impressive on college applications and resumes.
"Davina and Lisa are great to work with," said ReStore Pricing Associate Jan Hagerman, who supervised their work in the store. "Whatever I've asked them to do they've jumped right on and gotten it done."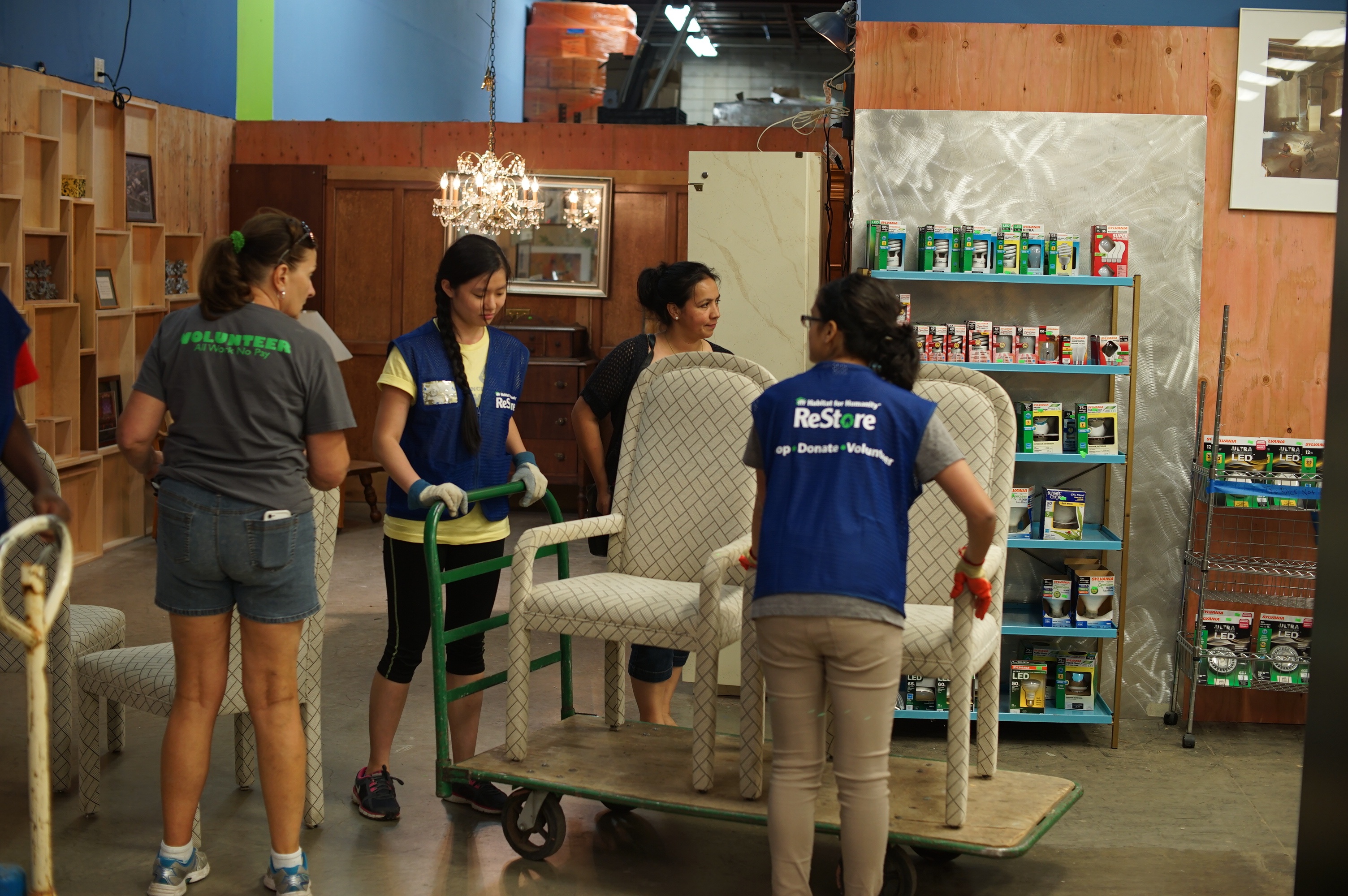 While talking with Hagerman, the girls could be seen using a furniture dolly to move a cabinet and some chairs. From the pair's laughter, it was hard to tell if they were at the store to work, or to play. Hagerman shook her head, "That's the way they are with everything they do. They're wonderful to work with and I'll take them back anytime I can get them here."
While chatting with Lisa and Davina over a project, Hagerman asked the girls if they were familiar with the President's Volunteer Service Award. (They weren't). Both girls got excited as Hagerman described the award and both planned on pursuing it during the school year. "It was great to learn about," said Davina. "We definitely want it on our college applications!"
The girls are refreshing not only in their attitudes toward the work, but also in their school interests; Lisa wants to study computer sciences in college and Davina wants to study Chemical Engineering.
"Right now we can only volunteer during the summer," Davina said. "We're both taking advanced classes, including STEM, so most of our time during school is taken up with studying."
Both want to work in the corporate world after college, for the income and the security, but both also said they hoped their work with give them the income and flexibility to continue doing volunteer work.
"I'd like to be able to use my expertise to help a nonprofit," Davina said.
"Right now," Lisa said, "This is real good experience to have before you start a career. A chance to put yourself out there to see how world works and interacts with each other."
Davina added, "It's a chance to see different lifestyles than what we're normally exposed to. Both my parents are computer engineers, so I don't get to see other lifestyles."
From their positive attitude, and infectious energy, don't be surprised to see both of them making a big impact on the world. They've certainly made an impact at the ReStore!