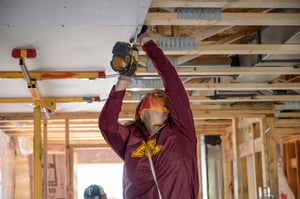 When it comes to volunteering, Minnesotans are almost unmatched. We're among the top volunteering states in the nation. The Minneapolis-Saint Paul Metro Area leads America's cities in volunteering rates. But it's more than "Minnesota nice." We've committed to volunteering at a systemic level, with many employers offering group volunteering opportunities to employees to encourage community involvement.
We Minnesotans also know that things don't stop in the wintertime, not even the need for affordable housing. Anyone can get involved as a Twin Cities Habitat volunteer year-round, and signing up to volunteer takes just a few minutes. We couldn't do what we do without volunteers, but volunteering also benefits those who serve! Take a look at volunteering opportunities below to find a role that fits your interests.
Top Volunteer Roles
Building homes is what we're best known for—and where your support can have the greatest impact! Homebuilding volunteers don't need construction or onsite experience to help. You'll learn something new, from framing a house to construction and team-building skills. Individuals and volunteer groups can sign up for a Habitat build here. During the colder months, you can join Winter Warriors, a program rewarding brave volunteers with Twin Cities Habitat swag!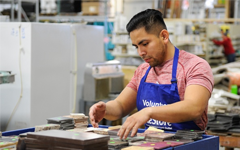 ReStore Home Improvement Outlets sell donated materials and home goods at a fraction of retail prices. Plus, every sale expands homeownership opportunities for local families. Regular ReStore volunteers keep donations coming in, arrange merchandise at the store, process transactions at registers, and more. Become a ReStore volunteer in New Brighton or Minneapolis.
Home repair through A Brush with Kindness recruits volunteers to work on projects that help keep Twin Cities homeowners in their homes. Volunteers paint exteriors, trim trees, repair carpentry, install accessibility modifications, and more. Learn more about volunteer opportunities.
Who can be a volunteer?
Twin Cities Habitat for Humanity offers a variety of opportunities for volunteers of any age, from youth to our beloved retirees! No experience is necessary, and Habitat staff provide all training and equipment.
Anyone over the age of 18 is welcome to sign up for any volunteer role with Twin Cities Habitat. In addition to valuable life skills and social opportunities, high school and college students can also earn service learning hours.
Retirees can join regular crews or volunteer on their own to serve one or more days on Habitat builds and repair projects in the metro area. In 2019, AmeriCorps sponsored a study that found volunteers ages 55 and older reported improved health and decreased feelings of isolation after volunteering. On our blog, you can meet Bob Hammond. Bob's involvement with Habitat for Humanity goes back decades and spans the country.
Families can take part in Habitat home construction, repair, fundraising, and more.
Youth at least 14 years old can volunteer with an adult supervisor (21 years or older) at ReStore.
Volunteers at least 16 years old can join a Habitat build with an adult supervisor (21 years or older). They can also help at ReStore or on landscaping projects on their own.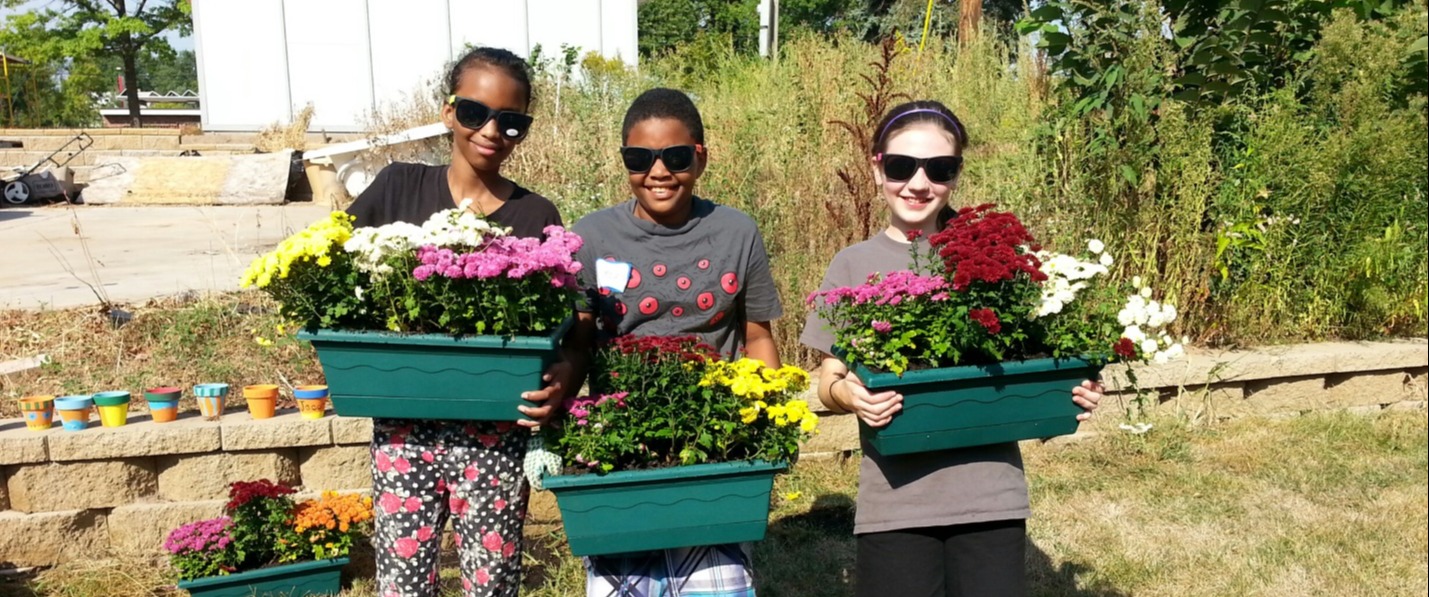 As the need for affordable housing continues to grow, now is the perfect time to volunteer in any way you can. If you're curious about volunteering with Habitat, please visit tchabitat.org/volunteer. Or, contact our Volunteer Coordinator at volunteer@tchabitat.org.
Sign up for our Volunteer Newsletter to get the latest updates!