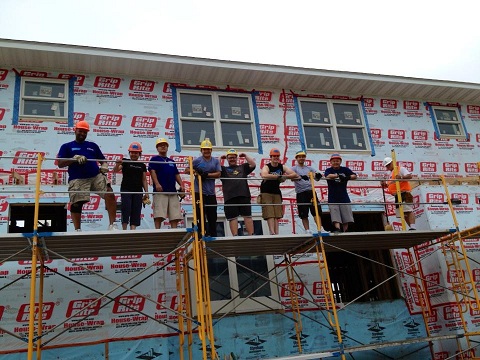 With nearby parks, schools and shopping areas, the conveniently located Mississippi Dunes Estates is a prime location to build Habitat homes. In June of 2012, Twin Cities Habitat for Humanity purchased twelve townhomes in the area, with plans to build three four-unit buildings over the next three years.
The units consist of four 3-bedroom, 2-bathroom row-style townhomes with attached 2-stall garages. They are spacious, clean and reasonable – an ideal living space for families looking for an affordable option in the Cottage Grove area. Four families are planning to move into the first of the four buildings.
"Our home will bring a better, brighter future for my kids, allowing them to be more likely to succeed in their lives," said Gobena, a mother of two who will be moving into one of the Mississippi Dunes townhomes. This was a common sentiment expressed by many of the families moving into the units. The cleanliness, safety and convenience of the surrounding area and the homes themselves will be a welcome change for the families, and will increase the likelihood of academic success for their children.
Many families are also excited to move to an area close to relatives and their places of employment. A shorter commute, and a closer proximity to the homes of their extended families, will cut the cost of transportation in their lives and allow them to save for the future.
Construction on the first unit is pretty far along, but there still remains much to do. By September, Twin Cities Habitat hopes to have the exterior completed, leaving just the interior work for the winter months. Then, after all is complete, families can begin moving in late this year.