At Twin Cities Habitat for Humanity we are always looking for new youth workshop leaders! The leaders should be enthusiastic, energetic, experienced, and motivated to lead groups of middle and high school students in hands-on projects including building Adirondack chairs and storage boxes. Dedicated youth or adult leaders are needed to lead youth in these projects while still maintaining the safety in the group! The boxes and chairs made by youth groups are donated directly to Habitat Homebuyer Families as welcome home gifts when they move in, or donated to the ReStore with the proceeds benefiting youth programming at Habitat.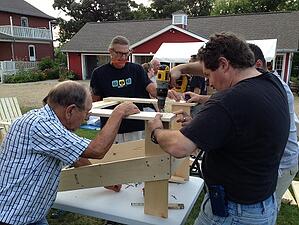 Responsibilities:
• Visit partner sites (churches, schools, etc.) and lead groups of youth ages 10-18 in hands-on building projects
• Occasionally transport materials
• Maintain environment that emphasizes safety
• Work with groups of young people to ensure that all youth have opportunities to participate
• Explain Habitat and the project to youth groups and adult volunteers
Preferred skills:
• Enthusiasm and experience in working with youth
• Ability to check email regularly
• Basic to moderate knowledge of power tools and woodworking
• Understanding of safety procedures and ability to communicate safety needs to young people
• Open to working with a diverse group of youth and adults

Expected time commitment:
• Twin Cities Habitat for Humanity tries to hold at least one hands-on workshop per month
• We ask for you to attend whichever workshops you are available for!
Volunteer Impact:
• Teaching youth new skills in building
• Leaving a lasting impact on the Habitat community
• Creating long lasting relationships
• Supporting the Habitat mission
• Inspiring youth to take action
• Fun!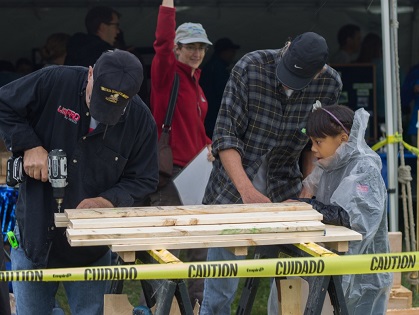 Requirements:
• Interview with our Youth Engagement team Requirements
• Sign Twin Cities Habitat for Humanity confidentiality and background check forms


If you are interested in becoming a volunteer youth workshop leader please contact youth@tchabitat.org.