Guest blog by Molly Boland,
Engagement Associate
Since the fall of 2020, Twin Cities Habitat has conducted remote meetings and panel discussions with our Campus Chapter Leaders to launch new and improved ways to engage our student partners. Are you a student interested in joining us? Here are some of the ways you can get involved this upcoming school year and beyond!
Become a Youth Leader

Habitat Youth Leaders are middle and high school-aged youth that have a deep connection to Habitat and are interested in learning valuable leadership skills. Habitat Youth Leaders will volunteer with and fundraise on behalf of Habitat, and educate family, friends, and classmates about Habitat's work in the Twin Cities. In order to become a Habitat Youth Leader, youth will need to complete at least one task from four categories: Volunteerism, Fundraising, Education, and Advocacy. A Habitat staff member or adult volunteer will be paired with the Youth Leader to help complete these tasks.
Start a Campus Chapter
Campus Chapters are organized groups of students at college or high school campuses who form an ongoing partnership with our affiliate. These chapters participate in fundraising, volunteering, education, and advocacy with Twin Cities Habitat. Chapters plan activities on and off campus with their own team of students, assisted by a school advisor and their main Habitat contact. We currently have multiple active college and high school Campus Chapters, and we'd love to have your school join us!
Leadership Opportunities: Our Campus Chapters generally have a primary contact who represents and/or leads their group in meetings and engagement opportunities. These leaders, and other Chapter members, are welcome to join our Campus Council or High School Council. The Campus Council is a group of college leaders who meet to discuss and plan collaborative events and share ideas with one another about how they envision college engagement with Twin Cities Habitat growing and changing. The High School Council is a group of high school leaders with the same structure as the Campus Council. This is a great opportunity to grow leadership skills, meet and work with like-minded students, and expand on your ideas of how to engage with Habitat.
School Group Partnership
If your school has an existing program seeking external partners and engagement opportunities, Twin Cities Habitat could be a partner in mentorship, volunteerism, and more. For years now, Twin Cities Habitat has partnered with college courses, internship programs, and high school initiatives to engage students who are interested in learning more about homebuilding and career paths related to affordable housing, construction skills, non-profit management, and more. Our hands-on programming and knowledgeable Habitat staff are great resources to students interested in this area of work.
Volunteer With Us!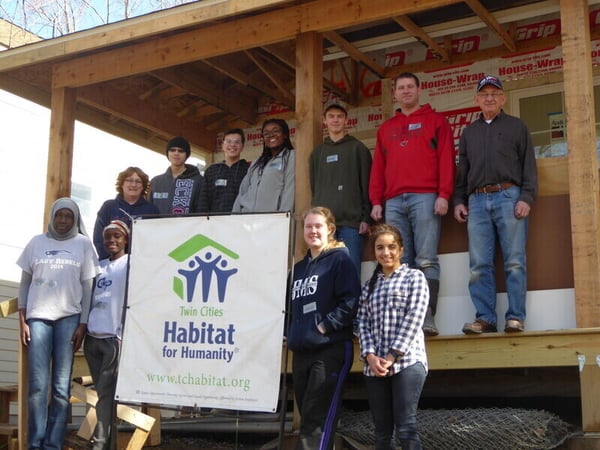 Group of volunteers spending a day on a Habitat site!
Volunteer with Twin Cities Habitat! Our Homebuilding and A Brush With Kindness programs have some opportunities for students 16 and older to schedule build days. You'll experience a fantastic day learning new skills and connecting with others. Don't worry, you don't have to have any experience, we'll teach you everything you need to know.
Watch our video on what to expect on a Habitat Build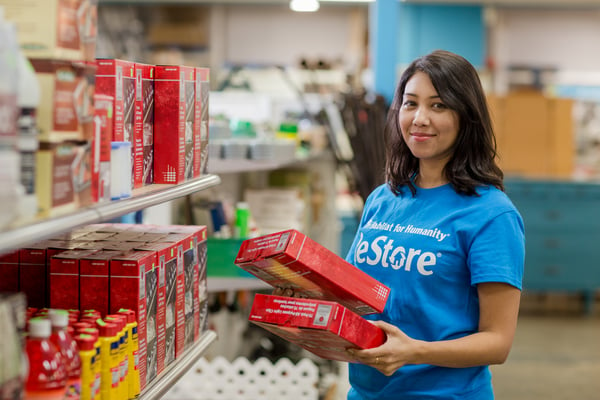 Volunteer organizing items at the ReStore
We also have volunteer opportunities available at our ReStore Home Improvement Outlets. Individuals 14 and older can become ReStore regular volunteers and assist our ReStore staff with sorting and distributing donated furniture and home goods, as well as assisting customers.
Next Steps
We want YOU to get involved! Want to get started or learn more about our volunteer opportunities? Please reach out to volunteer@tchabitat.org.