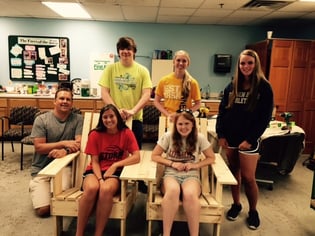 Twin Cities Habitat for Humanity offers ways for passionate volunteers of all ages to make a difference in the lives of Twin Cities families. While youth can volunteer at the ReStore, on landscaping projects, as a cookie baker or with the Youth Untied committee, they can also use their entrepreneurial skills to fundraise for Habitat.
Many youth groups who choose to engage with Habitat decide to fundraise to cover the cost of materials and resources needed to support their project or activity. Projects include making Adirondack chairs or toy boxes to be sold at our ReStore or given to Habitat families. Over the years we have seen groups get very creative with their fundraising!
There are also opportunities to fundraise with Habitat and make a donation to directly help a hardworking family who is looking to provide a safe and stable home for their children. We complied a list of ways you can fundraise with Habitat and spread the word about the need for housing for all of our Twin Cities families!
Here are just a few to get you started:
Brainstorm your own ideas and contact youth@tchabitat.org to answer any questions. The options are limitless and you will feel great knowing you are changing the life of kids in your area.