What do biking, magic, and Habitat for Humanity all have in common? John Bendewald and his 1000 mile bike ride for Humanity!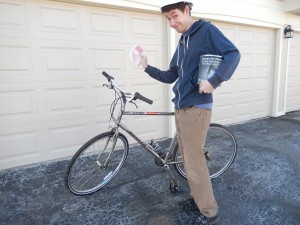 John Bendewald, a sophomore at Oakton Community College in Illinois, is embarking on a courageous 3 week journey beginning in May. He will be biking 1000 miles in support of Habitat for Humanity! He will be biking over 50 miles a day all the way from Des Plains, IL to Duluth, MN. His trip will lead him through 3 states, Illinois, Minnesota, and Wisconsin, where he will stop by nearly 25 different Habitat affiliates along the way to perform Habitat themed magic shows. John has a passion for magic, and will be creating specific magic tricks that educate people about Habitat, and how they can get involved. This project aims to inspire a new generation of Habitat volunteers!
John was first introduced to Habitat during his freshman year at Oakton Community College where he joined his Habitat for Humanity Campus Chapter and went on a Spring Break trip to Starkville Mississippi. John created great friendships on this trip, and also found something he was really passionate about - Habitat. He learned from his trip how rewarding it is to help those in need!
The idea for the 1000 mile bike ride began as a bike ride for John to learn more about himself. John realized that in order to train for his long bike ride, he would unfortunately have to miss out on this year's Habitat Spring Break Trip. That's when John, with the help of a faculty advisor, got the idea of combining his 1000 mile bike ride and a Habitat fundraiser, and the 1000 miles for Humanity idea was born.
John's goal for his bike ride includes educating people about Habitat, raising money for his Oakton Community College Campus Chapter, and raising money for the different Habitat affiliates he visits along the way. As a result of his trip, John hopes to engage college aged students in Habitat's work.
John will be stopping by the Twin Cities Memorial Day Weekend! He will be performing Habitat magic at our ReStore located off of County Road D in New Brighton the afternoon of Saturday May 23rd. This is a great way for youth and families to get involved in Habitat!
John needs the public's support to make this trip successful and to cover the cost of his expenses (food, bike supplies, bike maintenance, etc.). If you would like to support John on his impressive journey please visit his website.