Guest blog by Julia Brauchle
Twin Cities Habitat Staff
Campus Chapters
School is back in session and that means Habitat for Humanity Campus Chapters are reconvening. Campus Chapters are student-run clubs that support a Habitat affiliate through volunteering, fundraising, education and advocacy. They help an affiliate reach a greater audience by spreading our mission through a college campus and student body. Twin Cities Habitat is lucky enough to have three established Campus Chapters: The University of Minnesota, Hamline University and Macalester College. Each has an executive board of students that plans builds, hosts fundraising events and advocates for affordable housing on campus. What do the chapters have planned for this year? A LOT!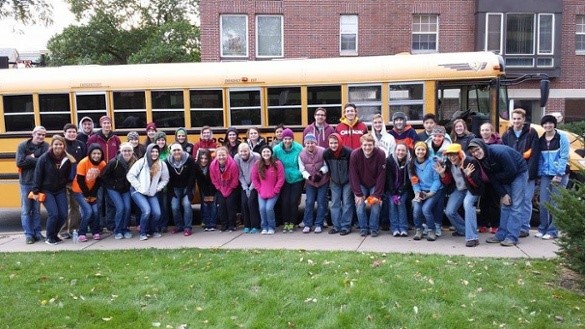 FUNDRAISING
The chapters are already off to a successful start in the fundraising category. Macalester put on their annual rummage sale at the beginning of term. The chapter collects items from students when they move out at the end of one year and then sell them to new students at the beginning of the following year. The sale raised $1,800.
The U of M chapter kicked off the year with the ever popular event Muddy Sunday – a volleyball tournament fundraiser. This year the tournament raised over $1,000 for Twin Cities Habitat.
And exciting events are still ahead! The U of M is challenging their campus to raise an extraordinary amount of money this year with the 2nd ever 60K day. The chapter will engage university departments and staff, different colleges and student clubs, local business and students on campus to raise $60,000.
VOLUNTEERING
All of our campus chapters are avid builders, bringing out groups of 13 students to homebuilding and A Brush With Kindness sites at least once a month. The U of M Chapter has already completed their first Mega Build of the year; on September 19th the group filled 4 sites with students, installing two rain gardens, finishing a landscaping project and completing an exterior paint job on a home in Minneapolis. Hamline and Macalester step up over the next month to help out with landscaping and home building projects in Minneapolis.
In addition to local builds with Twin Cities Habitat, chapters take off to warmer destinations over winter and spring breaks to build with affiliates in other regions of the United States. Florida and Pennsylvania are in the cards this year with more trip locations to be announced soon.
EDUCATION
Twin Cities Habitat's very own President and CEO, Sue Haigh, is headlining an event organized by the chapter at Macalester College in October. Sue will address emerging trends in affordable housing development and the challenges of aging residents and renewed interest in the central cities.
The Hamline Campus Chapter hosts two annual events to bring awareness of housing and homelessness issues to their campus. In December, the group challenges students to a ginger bread house competition while they explore housing issues in our community. They also have a tie blanket making event. Donating the blankets to an emergency shelter in the Twin Cities helps the students explore another sector of the housing continuum.
ADVOCACY
Campus Chapters celebrate Act. Speak. Build week in April – a week dedicated to advocating for decent, affordable shelter by engaging elected officials and the community at large to eradicate poverty housing. The University of Minnesota's six-day event includes a home builds, visits to the capitol, a fundraising night at a Minnesota Twins Games, and a formal advocacy dinner and program. Throughout the week, the U of M Campus Chapter will interact with over 600 students, inspiring them to reach out to local representatives through letter writing, phone calls, direct visits and petitions.
A NEW ADDITION!
We are excited to announce that students at the University of St. Thomas are working hard to start their own campus chapter. We know through experience with Hamline, Macalester and the U of M that this is one of the best ways to engage college students and a wonderful way to start a relationship with lifelong Habitat supporters. We couldn't be happier to welcome St. Thomas to the Campus Chapter club!
For questions about campus chapters or other opportunities for college students, contact Julia Brauchle at Julia.brauchle@tchabitat.org.