Our fundraising team received a phone call about an individual who wanted to make a donation. While our team receives phone calls from many wonderful donors around the Twin Cities, this donation was extra special. Why? Because this donor is just six-years-old.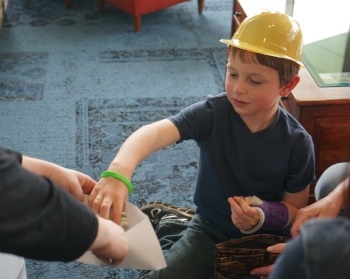 It's safe to say that our donors come from all walks of life—different places, lifestyles, cultures, giving levels and ages. Each one has their own motivation for making their gift, and every gift makes a difference for a local Twin Cities family.
Six-year-old Ray decided he wanted to donate money to Twin Cities Habitat after learning that there were people who did not have homes of their own.
"No one should be homeless," he told his mom.
After expressing concern during a family car ride, Ray made up his mind to do something and enlisted his parents to help him make a plan.
"We talked about it for a couple of weeks and looked at different organizations," Angela said. "We also talked about different ways to pool his money."
Ray decided with his parents to set aside a percentage of his allowance to be able to make a donation. Ray loves to build things, and he and his family were familiar with Habitat for Humanity after driving by a build in their local White Bear Lake community.
Ray came in to Habitat's main office and made his official donation of $100—right down to the very last cent!
"He's got a deep little heart," Angela smiled.
Ray is a shining example of instilling the idea of philanthropy at a young age. Teaching children to appreciate the value of things, learning to share what they have, and how important it is to look out for other people, are invaluable life lessons. For some kids, like Ray, these values are just a part of their nature. For others, these values are learned through different life experiences.
As parents, grandparents, aunts, uncles, guardians and mentors, we are charged with creating opportunities that foster values we wish to see instilled in our children, whether it be characteristics like compassion, generosity, and empathy, or skills like sharing, patience, and dedication.
It's not always easy to provide opportunities to inspire philanthropy in youth. But we've compiled a list of a ideas you can implement with the kids in your life to help develop an awareness and understanding of helping others in need. These are great activities to spark conversations around why we do things (like make donations), why we think it's important, and how it makes us feel.
Ideas For Youth & Families
Take a look at the list below and challenge your family to adopt one of these practices. Remember to keep the discussion open, and encourage your kiddos curiosity!
Family Night: As a family, designate a certain dollar amount to be donated to a local charity each month. Rotate which family member gets to select where the donation will go, and have a special dinner (charity chooser's choice!) to talk about the charity, and celebrate the donation.
Lemonade Stand: This is a philanthropic-focused twist on an time-honored tradition. Host a lemonade and cookie stand in your neighborhood, and include a donation box and donate proceeds to a charity. You could also circulate flyers to the neighbors to let them know about the fundraiser and inform them of how they can donate to your favorite charity or designated fundraising page.
Caring Coins: For each act of kindness your child performs that you witness or hear about (sharing, saying something nice, helping without being asked, being polite, etc.), put aside a certain coin in a jar. Once the jar is full, allow the child to pick a charity to donate it to.
Help Me Build A Home: Assist your child in creating a fundraising page and request a Habitat youth birdhouse for your child to build. For every $5 or $10 family & friends donate to the fundraising page, your child can add another "piece" to the Habitat birdhouse. At the end of the project they will have built a home for a family of birds that can be sold at ReStores in support of Habitat's mission, and they will also have raised money to help Twin Cities Habitat build homes. Email youth@tchabitat.org for more information.
Follow A Giving Calendar: Print out a giving calendar, or create one as a family! Calendars can include learning assignments, volunteer opportunities, donation days, charity-related facts and more. Get creative and have fun!
Youth volunteer and Fundraising opportunities
As kids grow, there are additional Habitat-related fundraising and volunteer opportunities for them to participate in! They can also get their youth groups, teams and schools involved in supporting local Habitat projects.
Bake Cookies for Habitat volunteers
Build Adirondack Chairs and Storage Boxes to sell at ReStore
Host a Fundraiser event
Decorate cookies as part of Habitat's Advocacy program
Learn more about youth opportunities on our Youth & Families webpage and email youth@tchabitat.org to get started. Whatever activity your family decides to try, it's sure to leave an impression on all who participate, just as Ray has done!


"Ray has been very excited to "inspire" others since his visit," Angela said. "He has repeatedly shared his donation story and experience with others."