Minnetonka High School students made big contributions to Habitat and the ReStore this past school year. One group raised money for Habitat and one group did consulting for Habitat and the ReStore.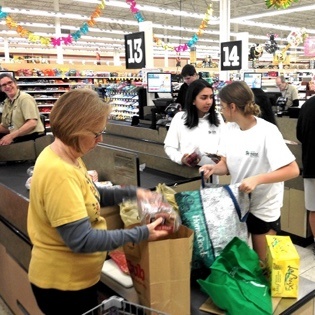 I had a pleasant surprise this past April when I walked into the Cub Foods store on Highway 101 in Minnetonka and spotted a number of students wearing Twin Cities Habitat t-shirts. I asked one of the students what was going on? She said she was with the Minnetonka High School Habitat for Humanity Club and they were raising money for Habitat by bagging groceries.
She introduced her self as Saya Sabin, the President and Co-Founder of the club. She explained that she and a friend had wanted to work with Habitat. After seeing how many different clubs there were at the high school, they decided to launch the Habitat Club to raise money, and to eventually volunteer on a Habitat build or work on an ABWK project, particularly veteran's related projects.
Saya pointed to Rosalind Bakion, the AmeriCorps Member currently serving as the Veteran Outreach Coordinator for TCHFH. Rosalind was one of the adults that accompanied the group to Cub. "These kids have been great to work with," Rosalind said. "I'm so glad to be able to come out here and support them!"
25 students, family and friends volunteered to bag groceries. In addition to the Habitat club, members of DECA and Vantage students spent the day volunteering. The next day Rosalind reported that the group had raised $1218 for Habitat.
Rosalind also shared a research project another group of Minnetonka students had done about how to advertise and market TCHFH services to local military veterans. The students, Jackson Denly, Wally Estenson, Austin Haag, and Sam Sigel, were part of the Vantage program at the school. VANTAGE is a program open to juniors and seniors who are interested in careers in business. They learn business related skills in the classroom, and then put those skills doing research projects and internships at companies and nonprofits.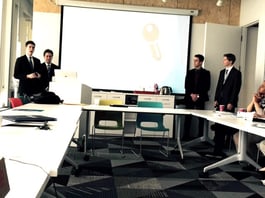 The group's research looked at housing and medical issues as two primary concerns for vets. They also learned that over 50% of vets face challenges trying to get into or keep permanent housing – a confirmation of the need for Habitat and for veteran related initiatives. To more effectively reach more vets, the group recommended the design options for a Habitat booth at the Minnesota State Fair on Military Appreciation Day on September 1st. Two of the VANTAGE students who worked on the project will be staying on as veteran outreach volunteers over the summer.
In May, VANTAGE students returned to TCHFH for another presentation, this time presenting their research findings about where to locate a new ReStore home improvement outlet. Working with Pete O'Keefe, Habitat's ReStore Operations Senior Manager, their school advisors, and a commercial real estate agent, students Jack Clark, Jack Schwarz and Will Cole, researched properties in the Southwest quadrant of the Twin Cities to determine the best locations for a new ReStore. They considered size needs, parking, zoning, visibility, lease rates, purchase prices, traffic flow, and more. They zeroed in on 5 buildings and narrowed that down to two top location recommendations.
It remains to be seen whether one of their locations will end up as a new ReStore, but as Pete O'Keefe said, "They identified good buildings I would have probably missed, so I'm very pleased with their work." He also confirmed that he is continuing to look closely at the buildings.
Vantage, Minnetonka's Advanced Professional Studies program, provides junior and senior student with real-world experiences in professional settings, where they can learn and develop skills for high-demand careers.
Thank you Vantage and Habitat Club members for doing so much to support the mission of Twin Cities Habitat for Humanity. It's great to see our future leaders getting a head start on their futures by working so hard to help the community, and Habitat, today.