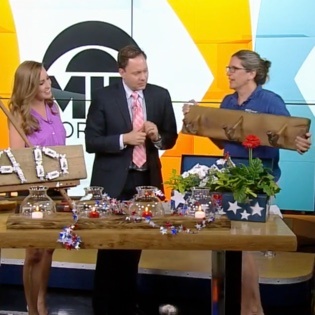 These days everyone knows we should reuse, recycle or repurpose old items. We know these practices are good for the environment, but for crafters, do-it-yourself enthusiasts, artists and wannabe artists, these words hold totally different meanings than they do for the rest of us. These words hold the possibility and promise of unique pieces of art, fun family projects, or just the satisfaction of having created something new from something old.
Does the idea of making a beverage cooler from an old school desk intrigue you? What about a coat rack made from old hammers and weather-beaten wood? Maybe a bookshelf made from an old panel door is more your style? You could even create cute garden art flowers from old chandelier globes! With a little inspiration and motivation, almost anything is possible.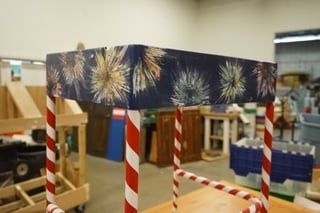 So where to you get the ideas and goodies to create imaginative artworks and unique projects? How about Twin Cities Habitat for Humanity ReStore? ReStore has everything you need.
ReStore is Habitat for Humanity's discount home improvement outlet…and it's open to the public. All of the proceeds from ReStore go to support Habitat's mission of building homes with affordable mortgages in the Twin Cities.
At ReStore you'll find a constantly changing array of building materials, furniture, appliances, plumbing products, lighting, tile, flooring, hardware, tools, kitchen cabinets and much more – all of which might contain the seeds of a wonderful, one-of-a-kind project. At ReStore you can find almost everything for building your own masterpiece, including all the tools you need. More importantly, you'll also find staff and volunteers who can help you with ideas, practical advice, and maybe even instructions.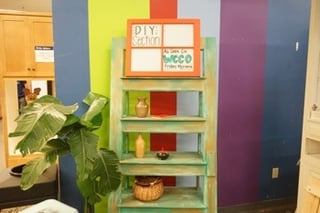 Still not ready to jump in your car and drive to ReStore? Got it. You can meet one of the DIY gurus from ReStore and get some great ideas by watching WCCO TV this Friday morning, June 24th, at 9:20 AM. Jan Hagerman, from ReStore, will be on WCCO's Mid-Morning Show for their DIY Friday segment. She'll share repurposing ideas and how-to help. One of the pieces she will be showing off this Friday is a cute beverage cooler made from an old school desk. It's a perfect project to have ready for the Fourth of July and it's remarkably easy to do. If you miss this Friday's episode, you can visit WCCO's YouTube channel and look for ReStore.
Can't wait for Friday? Watch the video below and see a couple of recent DIY Friday segments.
Getting started a summer of creative fun by watching WCCO, or by visiting ReStore at 510 County Road D in New Brighton, one block West of 35W. The ReStore crew is ready, willing and able to help you get started today.
By the way, ReStore has become so popular they are opening a second store in South Minneapolis early this fall. To be kept informed about great deals from ReStore, and get an announcement of when the new store's opening dates, visit restore.tchabitat.org and signup for our Hot Deals newsletter.
Of course the best way to learn about ReStore is to stop in. For more information, and directions, visit our website at restore.tchabitat.org or click on the link below.