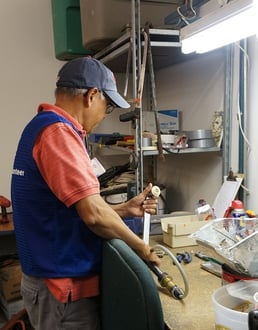 As many of our local supporters know, the Twin Cities Habitat for Humanity ReStore is all about reusing and re purposing materials in order to keep items out of landfills. The store operates on donations from individuals, contractors, companies and organizations, with sales going to fund Twin Cities Habitat's mission.
One of the newest ways the ReStore has decided to reinforce its focus on reusing materials is with the implementation of a recycling program. This program was developed after metals like brass, copper, zinc and steel started to pile up in the store's back room.
"We didn't actually start a formalized recycling process until we found volunteers that had a special interest in it," said Grant Carlson, ReStore Operations Coordinator. "Now, we've got a rhythm to the work, and we have fantastic, dedicated individuals that help out as part of our 'scrap team'."
Don, Grant and Pete from the ReStore staff worked in partnership with volunteers Larry C., Sue B. and her granddaughter Katrina M., Gus A. (pictured right), Chuck Z., Dan B. and Bill A., to create a process for segregating pieces that cannot be sold on the sales floor into steel or non-ferrous categories, allowing for maximum content value when recycling. The volunteers help out on a weekly basis, and have a special space in the store dedicated to the recycling process. Buckets are used to sort the various materials, and a large metal dumpster outside the store accumulates the steel products.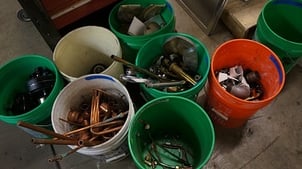 "The scrap team is really, really good at what they do," Grant added. "They're consistent and they know what they're doing. They show up and get the work done. As a team, they've created a smooth process that not only helps us recycle the materials, but also brings in additional funds."
A drop off run is made to deliver the materials to local recycling centers about two times each month, which brings in roughly $2,000 total. The steel dumpster takes a bit longer to fill up, but the store recently recycled its first full load, totaling $337 worth of material!
If you would like to support the ReStore with a donation, visit http://restore.tchabitat.org/donate.