Guest Blog by Julia Brauchle
Twin Cities Habitat Staff Member

Last September, Patrick Glynn, Principal of Grainwood Elementary in Prior Lake reached out to Twin Cities Habitat for Humanity to learn about volunteer opportunities. His students were learning about and choosing service projects for the year and had noticed that there was a Habitat home being built a block from the school. Grainwood Elementary wanted to do something to welcome the soon-to-be homeowners to their home and new neighborhood.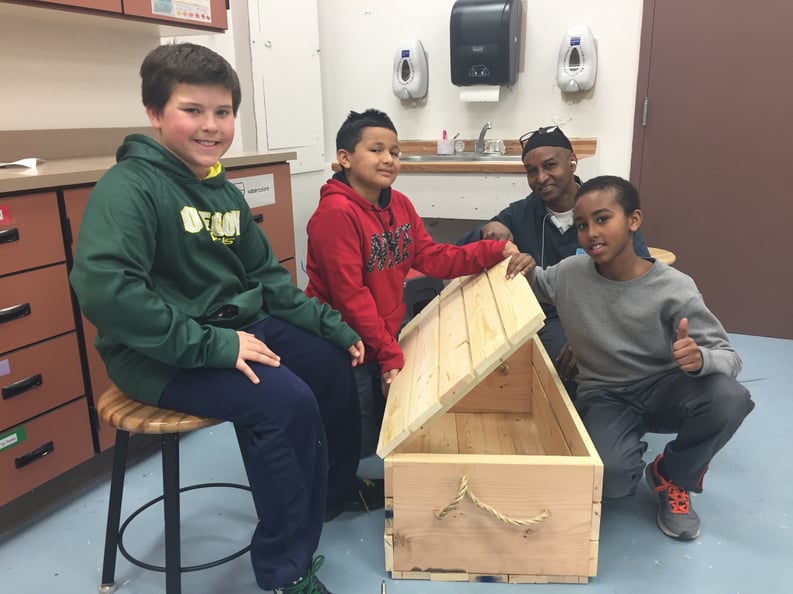 On March 8th, sixteen 5th graders built four wooden storage boxes during a youth workshop with Twin Cities Habitat. In small groups, the students worked with a parent volunteer to follow instructions and put the box kits together.
In order to participate in the workshop, the group had to raise $150 to cover the cost of wood and supplies for the boxes. They decided to do a 'Hat Day' fundraiser, in which students pay $1 to wear a hat to school for the day. The students got very excited when asked about their fundraiser, listing the silly hats their classmates chose: turkey hat, tiara, octopus cap and more. The group also formed a marketing team, tasked with advertising the Hat Day to the school. They created a video that was shared with the school. The fundraiser was a success – the school raised $270, $120 over their original goal!
Three of the boxes have been donated to the ReStore, where they will be sold and their profits will benefit Twin Cities Habitat. One of the boxes will go to Istad and her four children, who will be closing on the Prior Lake home at the end of May. Principal Glynn and one of the students are looking forward to presenting it to the family at their dedication ceremony.
Twin Cities Habitat values the youth in our community and all they have to offer to our organization. We work hard to provide age appropriate opportunities for students looking to get involved in our mission. Interested in Hands-On Youth Workshops or youth fundraising? Email youth@tchabitat.org for more information.