Do you want to learn some basic building skills while helping others? Twin Cities Habitat for Humanity offers hands-on workshops for youth, where we build Adirondack chairs or storage boxes! These Adirondack chairs and storage boxes are given to Habitat Homebuyers as house warming gifts or sold at our ReStore, where the profits go right back to supporting our mission.
On August 13th, Twin Cities Habitat for Humanity hosted one of these workshops at Redeemer Lutheran Church in White Bear Lake. During the summer months Redeemer Church hosts a weekly Wednesday worship at Bruentrup Heritage Farm in Maplewood; this was the setting for our workshop! We built the chairs outside in the shade on a beautiful evening. Nearly 100 people showed up for the worship and around 60 people helped us build 10 wonderful chairs in a few short hours!
These workshops are usually aimed at youth, but this workshop was more of a multi-generational gathering. There were lots of people who seemed to have many years of building experience. It was great to see all the generations working together to make the chairs!

There were also many youth and families who enjoyed working together to build the chairs. The younger children especially enjoyed measuring things with their new tape measures, sanding the wood, and using the drills! It was very helpful to have the skilled volunteer youth workshop leaders, Andy and Bill (Kirch), to assist the groups if they needed it! The youth workshop leaders facilitated the whole project, and kept everyone on the right track. The youth workshop leaders always teach youth new skills at the workshops while making sure everyone has lots of fun!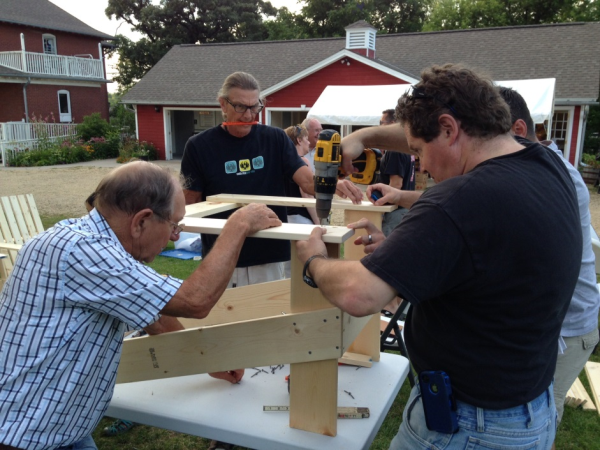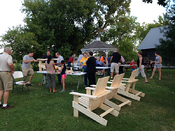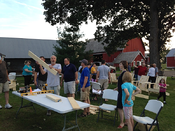 Everyone came eager to build regardless of age or skill level. The event brought together the whole church community for an evening of faith, fellowship and service. In the end, we had built 10 new chairs. That may not seem like much, but that work will have a lasting impact here at Habitat, allowing us to partner with more families and better serve our community. Thanks to everyone who came out to build with us!
Because youth under the age of 16 cannot volunteer on an active construction site, due to safety concerns, our hands-on workshops give youth an opportunity to build something and benefit Twin Cities Habitat for Humanity homeowners. Building the Adirondack chairs and storage boxes is a fun way for all ages to get involved, learn more about Habitat, and support our mission.
For more information on workshops or if you are interested in hosting one please contact youth@tchabitat.org.