By Julia Brauchle
Twin Cities Habitat Staff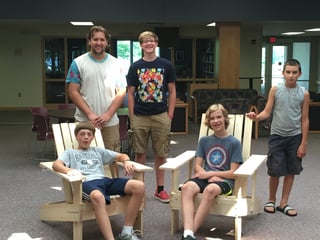 Gustavus Adolphus Church in St. Paul has been partnering with Twin Cities Habitat for Humanity since 1997. They have built on numerous houses and supported each build financially. Many of the congregation's volunteers come back year after year and take time off work to be part of the church's build week. This year, Gustavus wanted to involve a new generation in their partnership with Twin Cities Habitat.
Last Thursday, while volunteers over 16 years old were finishing the trim on a Habitat home in St. Paul, a group of youth volunteers built wooden Adirondack Chairs. Over two hours, five middle and high school-aged boys used drills and precut wood to put together two chairs. When they were done, they signed the bottom and displayed them in the church's entryway for the whole congregation to see. Typically, the chairs are sold at Twin Cities Habitat's ReStore or given to a Habitat family at their home dedication. This time, the pastors at Gustavus Adolphus decided to auction off the two chairs to the congregation, and use the money that is raised to support their build week.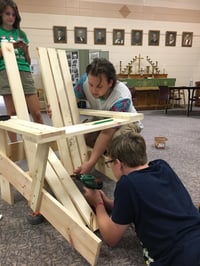 After completing the chair project, the youth group accompanied members of the church staff to the build site where the rest of the congregation's volunteers were building. The youth helped deliver lunch and had a chance see what a Habitat home looks like. The boys explored the almost-completed house, and then everyone enjoyed walking tacos together while talking about the morning's projects.
The group also participated in Habitat's on site educational activity Build. Think. Act. The volunteers were tasked with reviewing five typical family applications to Habitat and choosing just one to be matched to a home. Through the activity, the group explored common housing problems and solutions in our community, and was reminded of the immense need for more affordable housing.
The younger participants pointed out how difficult it would be if their families suddenly had to move out of their homes and leave their neighborhoods. They commented on how tough it would be to share a bedroom with their siblings in an overcrowded house, and the struggles of moving schools, making new friends, and catching up on homework.
The adult volunteers talked about the strain of raising a family when stressed about housing and the different things that families have to sacrifice when they are spending such a large percent of their income on housing. It was interesting to see the perspectives from the different generations on why a decent, affordable house is so essential to a family's life.
After weighing family incomes, housing need, and willingness to partner with Twin Cities Habitat, none of the groups could agree on just one family that they felt should be selected to buy a home over the others. Why? Because everyone deserves a safe place to live and raise their families.
Thank you to the youth and adult volunteers at Gustavus Adolphus Church for a great day of building and learning!
Are you interested in a youth or educational activity? Contact Julia at Julia.brauchle@tchabitat.org or 612-305-7162.