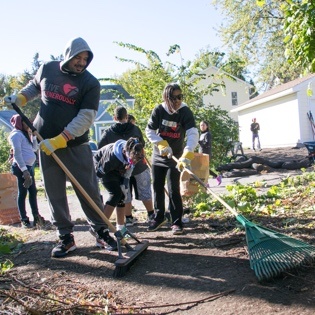 Frogtown, St. Paul was the place to be on October 3rd! Close to 200 people including residents, students from nearby schools, community partners, and Twin Cities Habitat employees and volunteers showed up to work and hang out at Garage-A-Palooza. As the Frogtown Crew mounted speakers on a bike that rolled along a back alley intersecting Dale Street, children, youth and families dumped old furniture, pulled out shrubs that hid long-forgotten driveways, restored garden beds, rolled out sod for a recently built Habitat house, and repaired and painted six garages.
Garage-A-Palooza, a community event sponsored by Twin Cities Habitat, Frogtown Neighborhood Association, Thrivent Financial, and Frogtown Rondo Home Fund has long been in the making as a response to community partners' input on how to strengthen relationships and, together, make Frogtown a better place to live. The event addressed some of the residents' more pressing concerns, such as changing the way we deliver our programs in Frogtown, safety and littering. Volunteer crews wasted no time in transforming the alley. By days' end, six garages where restored and painted.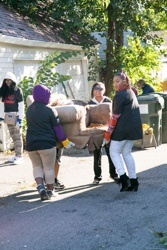 As we worked and played, neighbors and community partners came out to share their enthusiasm for a community. Over 70% of residents (both homeowners and renters) feel satisfied living in and wouldn't want to live anywhere else. The event is part of Twin Cites Habitat greater effort in providing our services and engaging families in a 16-block area in the Frogtown neighborhood and an 8-block area in Jordan neighborhood of Minneapolis. It is part of the Neighborhood Revitalization Program, with the overall objective of improving the quality of life in the communities that encompass our focus areas.
Where do we go from here? Garage-a-Palooza demonstrated, yet again, that neighbors and community partners are deeply committed to their community. Looking forward, community partners want to collaborate with Twin Cities Habitat to carry out their future ideas and initiatives in creating Frogtown a healthier, safer and more vibrant community.
Shouts out to everyone who partnered with us! Here were some of our favorite moments:
The day was kicked off by Councilmember Dai Thao, Tia Williams from the Frogtown Neighborhood Association, Rebecca Lucero of Twin Cities Habitat, and Mikeya Griffin of Thrivent Financial, with MK Nguyen of Wilder Foundation with the St. Paul Promise Neighborhood as MC – ensuring we started the day full of love, celebration, and community…
Frogtown Rondo Action Network (FRAN) single handedly tackled and discovered an entire parking pad that had been hidden by weeds.
Mission Continues was incredible showing up with so many amazing volunteers including one seven year old who didn't shy away from carrying heavy sod across the yard!
An amazing mother/daughter team kept working down the alley landscaping area after area.
A neighbor helped us water all the freshly planted sod and bushes along the alley.
The food provided by West Indie Soul Food was delicious – plantains?!?!?! YES!!! Having a food truck there added to the fun element of the day.
Music provided by Frogtown Crew was amazing and everyone took turns dancing for joy throughout the day when yet another amazing track came on.
You can see a ton of great pictures from the day on Flickr.
We haven't even talked about bouncy house and face painting and coloring and games and bubbles!