From July 9th to the 16th, Twin Cities Habitat, Thrivent Financial and the Jordan Area Community Council (JACC) partnered to carry out the Jordan Week of Kindness initiative. From July 9th to the 15th, enthusiastic A Brush with Kindness volunteers worked alongside residents on repairs that transformed four houses on two blocks in the Jordan neighborhood. Local contractors like Bryskin were hired to help out with the extra load and community members like Project for Pride in Living helped with prep work.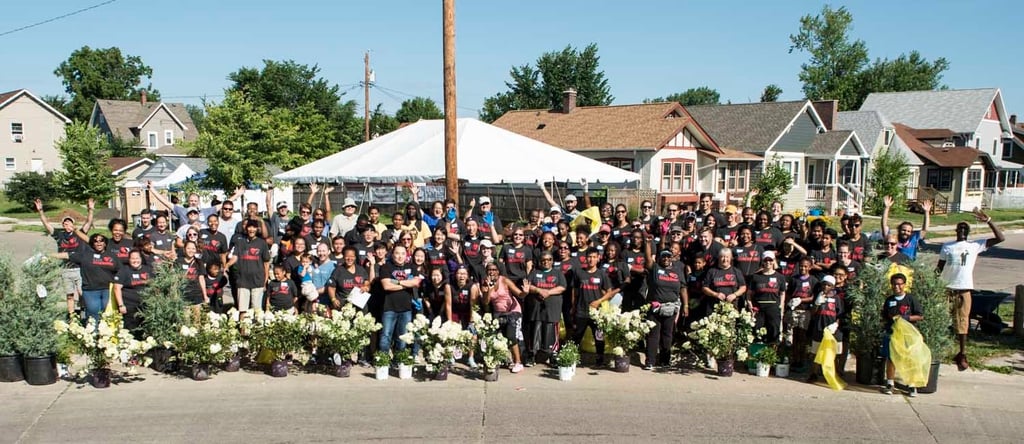 Homeowners like Regina were delighted with the results. The journey began weeks earlier when Twin Cities Habitat and JACC invited Regina and her neighbors who needed a little bit of TLC work for their homes to participate in the initiative. For Regina, it was the first time that she met some of her neighbors and it was extra special because they were coming together to enhance their neighborhood.
On Saturday, July 16th, after a whole week of repair work, over 100 volunteers wrapped up Jordan Week of Kindness. Cookie Cart, Big Brothers Big Sisters, Northside Home Fund, PRG, Antioch, Northside Achievement Zone, Mount Vernon Missionary Baptist Church, Boys Leadership Empowerment Network, Korean Presbyterian, and Northside Inner City Environment, along with other community members and residents, began the day with boulevard planting and a 12-block neighborhood clean-up.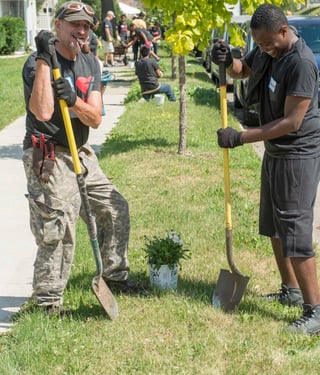 The energy was contagious. Even in the early morning when the event began, the block was overflowing with excitement. DJ Boo kept the volunteers energized as they worked and by lunchtime, as Avenue Eatery served hamburgers and hotdogs, many were already dancing in the street.
In the afternoon, volunteers and community members were invited to stay to celebrate a day of service and the Jordan neighborhood. Twenty local organizations came out to table and connect with residents. Activities for families and kids were abundant. Children learned how to Double Dutch with Pros of the Rope, prepared art materials with Juxtaposition Arts and Wild Seed collective for the upcoming Flow Parade, played games with sPARKit, petted the canine unit and horses, and hula-hooped with the police.
The program began with an appearance from Minneapolis Mayor Betsy Hodges and Council Member Blong Yang who represents the Jordan neighborhood. Speakers from JACC spoke of their love for their neighborhood and encouraged residents to take pride in the positive things happening all around them.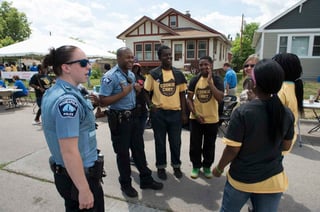 The afternoon concluded with performances by the MN Internship Drum Team and Kalpulli KetzalCoatlicue, who reminded us of North Minneapolis' rich diversity as they exposed the crowd to parts of traditional Aztec culture. Local singers and spoken word artists, including Alexandria Scroggins, Dahlia Jones, Shavonda, Legacy and S'Sence, reminded us how beautiful North Minneapolis community is despite its trials and hardship.
On July 16th, residents came out to not only do a clean-up and boulevard planting but to show their satisfaction and pride living in the Jordan neighborhood. Twin Cities Habitat feels honored to have partnered with the Jordan community for the Jordan Week of Kindness initiative. As our partnerships have strengthened and our ties grow deeper, Twin Cities Habitat is committed to work together in revitalizing the Jordan neighborhood.