There is a crew of faithful volunteers who regularly volunteer on homes in need of repairs for A Brush with Kindness (ABWK). These volunteers, known as the AR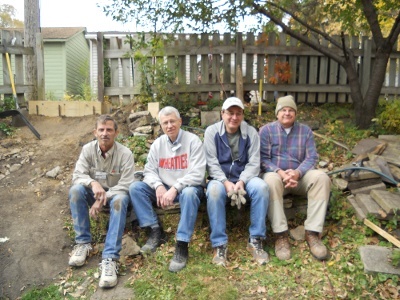 EG (regular volunteers) crew, work diligently and with enthusiasm on every home they help to transform for families.
One hearty member of the crew, Dave Devoy, has regularly volunteered on ABWK and new construction crews since 2010. The AREG crew did not originally exist when Dave started with ABWK.
"I was attracted to the ABWK program primarily for the variety of repair/remodeling tasks they perform, and also for the immediate and sometimes dramatic transformation of owner-occupied homes," Dave said.
The AREG core crew, includes Dave, Jerry Kuennen, and Phil Jablonecki. They have since been joined by Mike Eckardt, Owen Christiansen, Bill Skinner, David Delforge, Jim Mosner, Steve Semmer and a few other helpful crew members.
Dave serves as the liaison between the ABWK staff and the crew. Part of his responsibilities include disbursing weekly project information, collaborating with other crew members and staff on site, and working with staff to research and evaluate the scope of work for future projects.
ABWK performs a wide variety of home repair and remodeling projects, ranging from simple repairs, like drywall and painting, to more complex repairs involving demolition and rebuilding of kitchen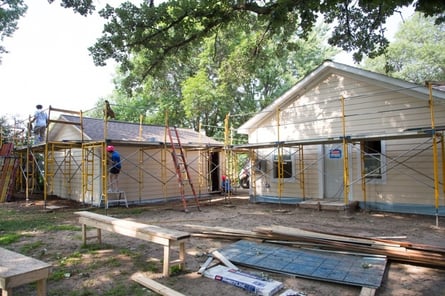 s, bathrooms and concrete stairways. Typically, between three and eight crew members volunteer on any given ABWK project site.
Dave says the AREG crew is composed of members with "considerable and varied skills in all areas of remodeling and repair." Still, they welcome any volunteer regardless of skill level. With a crew as friendly and helpful as the AREG crew, any volunteer would fit in nicely, learn a lot and have fun while doing so.
"The staff and crew members are always eager to share their knowledge. It is a great way to learn simple home repair techniques for the uninitiated-- of course, we also welcome new members with skills and ideas of their own," Dave said
As fall season has set in, ABWK is currently winding down its outdoor work season. Very recently, the AREG crew completed the trim work on a deck project in Lino Lakes. As Dave reflects on the ABWK projects completed this season, he beamed about the hard-working ABWK staff.
"They often say that they are like 'turtles,' in that they carry their house on their back. Unlike new construction staff, they have to carry everything to every site, every day, including tools and materials, set everything up on site, supervise all activities, handle any unexpected events, interact with clients, and then clean up the site and remove all tools and debris at the end of the day. It is an awesome amount of work, and they do it well,with grace and good humor."
When asked to describe the working relationship between ABWK staff and the AREG crew, Dave joked, "Briefly, they praise our crew too much and we praise the staff too little."
It is safe to say, the ABWK staff collectively agrees that it is a pleasure to work with the AREG crew and their praises for the crew are well earned.