By Julia Brauchle
Twin Cities Habitat Staff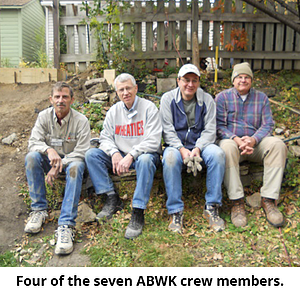 "These guys are such a gift. Wow!", says Cindy Lehmer-Smith, one of Twin Cities Habitat for Humanity's A Brush With Kindness (ABWK) home repair project supervisors. Cindy is referring to our ABWK Regular Crew, a group of seven men and women who volunteer all across the seven-county metro area every Wednesday. Without these dedicated volunteers, the 125 home repairs ABWK does each year for low income homeowners would simply not be possible.
Our ABWK Regulars paint, roof, demo, tile and everything in between, but lately some have been going above and beyond. Ron Solfest is the newest recruit to the team. A recent retiree, Ron was looking for ways to give back, so he joined ABWK for a repair project in Lino Lakes in March. While the work scope for the project was only interior painting and handrail installation, Ron ended up taking an extra project home. He used his personal tools and home workshop to build shelves for the homebuyer, as well as installing an extra handrail to what was originally planned. When asked about the extra work, Ron modestly explains that it was no trouble and adds, "I'm coming to understand that sharing smiles with homeowners and other volunteers, and caring for others, is at least as important as whatever actual 'tasks' we complete. It is nice to actually make improvements that make people's lives easier after we've left though, too".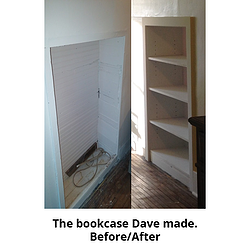 And Ron is not alone. In Cindy's words, longtime volunteer and ABWK Regular Crew Leader Dave DeVoy "has a halo and wings". In addition to his time, he donates his trunkful of tools each Wednesday. He also helped design ABWK's brush drying racks. Recently, Dave drove from his home in Chanhassen to a homeowner's house in Minneapolis to pick up lumber. The next day he returned to the site with a completed bookcase, installed it and added a frame to give the homeowner extra storage and a beautiful addition to one of the bedrooms.
Thank you to Dave, Ron and the rest of our ABWK Regular Crew, Phil, Owen, Bill, Jerry, Jim and Therese! Your dedication, commitment, skills and smiles make what we do possible. Happy National Volunteer Week!
Think you would like to get involved with ABWK? Watch the below video to see what a day on site is like and the difference you can make in a homeowner's life. Sign up for any volunteer opportunity during National Volunteer Week (April 12th-18th) to be entered into fun prize drawings!