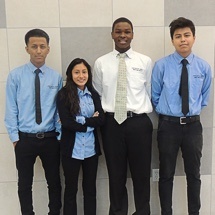 Whenever I visit the Twin Cities Habitat ReStore, I hear great stories. I hear stories about cool donations, creative volunteers, staff playfulness and the impact the ReStore has when it comes to helping Habitat build more affordable homes. One story, however, is about a surprising and unique program that is changing the lives of four young people and their families. The story is about a partnership between the ReStore and Cristo Rey Jesuit High School that has been funded by Opus Group.
Cristo Rey was founded to help students from low-income families improve high school graduation rates while simultaneously preparing them for college. One of the things the school does to keep down costs for families is to ask students to work at local businesses, with their income earned going directly to defraying tuition costs. In the process the students learn business and relational skills that put them miles ahead of any students they are likely to meet in college. With 100% of the students being accepted to college, the results are nothing short of miraculous.
When ReStore Senior Operations Manager Pete O'Keefe heard about the program from a neighbor, he initiated a conversation to bring some of the students to the Habitat ReStore. It was an idea that resonated at the school and when Opus Group, long-time Habitat supporters, heard about it, they stepped in to fund the students time at the ReStore, and the plan was implemented. The result was that a Cristo Rey freshman, sophomore, junior and senior started working at the ReStore. The students each work one day per week and rotate Fridays. They also make an impact every day.
Vanessa, Angel, Jorge and Drakarr have become important members of the ReStore team. Freshman Vanessa is a varsity soccer player who co-workers describe as a "stick-of-dynamite ready for any challenge." Jorge is a sophomore who quietly gets any job given to him done efficiently and right. Angel, the junior of the group, is an articulate, well-rounded, goal-oriented and driven student who knows where he wants to go and how he's going to get there. Drakarr is a senior who has lettered in basketball and who is totally prepared to attend one of the four colleges that have accepted him. In addition to earning good grades, playing basketball and working at the ReStore, Drakarr also has a job at A&W.
Because the ReStore has only a small full-time staff and it is dependent on volunteers, having the Cristo Rey students working there is like having another full-time staff person. Their presence takes some of the pressure off the staff and helps improve store sales and operations. The four are eager to learn any job put before them. They've been learning operations, customer relations, logistics, planning, scheduling and cashiering. They're even getting experience leading groups of first-time volunteers through projects.
The business skills they are learning are important, but perhaps more important are the relationships the four are building with staff and volunteers. The bonds they have built mean they have support for their work and encouragement for their aspirations and school work. It's impossible to predict the long-term influence of these relationships, but it's likely to be very positive for both the students, and their cohorts at the ReStore.
The ReStore operates as a discount home improvement outlet with the purpose of enabling Habitat to build more homes. All products for sale have been donated by homeowners, investors, resellers and manufacturers. The products are resold with proceeds funding more homes. Those homes change lives for generations to come. This partnership means even more families are having their lives changed positively.
It's hard to find win-win-win-win scenarios, but this partnership certainly delivers. The ReStore wins by getting dependable, effective team members who add energy and enthusiasm while getting the job done. Opus wins helping build a diverse and highly prepared generation of future workers. Cristo Rey wins by demonstrating a successful model of education that positively transforms students and families. Most of all, these four extraordinary students win by developing maturity, leadership, business skills and relationships that will help them succeed in school, in college, and in life. If that's not a great story, I don't know what is!