Guest Blog by Pete O'Keefe,
Twin Cities Habitat Staff
As the social enterprise arm of Twin Cities Habitat for Humanity, the ReStore sells building materials, appliances, furniture and cabinets to the general public. Real world business problems have provided an opportunity to partner with local student groups for innovative solutions, with the store operations acting as a working laboratory. This semester, the ReStore has a multitude of active projects.
High School Partnerships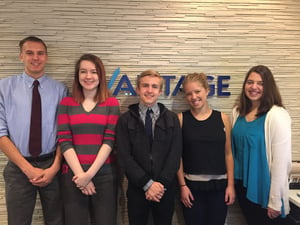 The Minnetonka High School VANTAGE program is no stranger to the ReStore, having completed a research project last year for a second Restore building. With a second store now in motion, the VANTAGE Team is now assisting the Habitat ReStore to create a social media campaign targeted to recruiting new volunteers for the grand opening of the South Minneapolis store.
VANTAGE instructor, Brent Veninga, shared why he is excited about project:
"I am grateful for the opportunity that Habitat for Humanity ReStore is providing to our VANTAGE students. This real world experience provides exceptional learning opportunities, not seen in a standard high school classroom."
During the project, VANTAGE team member Madison Herfurth learned that the Habitat ReStore "is important to Habitat for Humanity's mission to build homes for people in need. The profits go towards building new houses, and I learned the importance of what the ReStore does in relation to building new homes."
Habitat also benefits from individual volunteers who assist with special projects.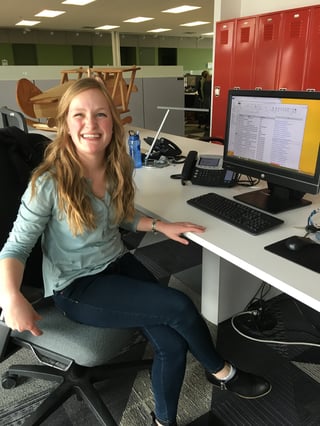 Emma Froseth from Benilde-St. Margaret's High School stops in at Twin Cities Habitat's main office at least one afternoon a week for marketing data entry management. She assists the Habitat ReStore by compiling a list of names and emails of individuals and companies who could donate building supplies, gently used furniture, and other products to the ReStore.
Emma feels volunteering is impactful because "my work will allow people to learn more about the ReStore and the great things that Habitat for Humanity does and hopefully because of this the ReStore will receive more donations".

The ReStore benefits greatly from word of mouth advertising, but sending an email reminder to local contractors, builders, and real estate agents informing them about the ReStore and asking for their excess furniture or construction materials is necessary for the expected doubling of merchandise necessary with second store operational. Emma's individual project is designed to let the community know about the ReStore and the donation opportunities.
College Partnerships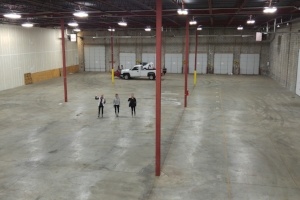 This semester, the Small Business Institute (SBI) at St. Thomas is also partnering with the Habitat ReStore for a second year in a row. This year, a team of four marketing seniors is tasked with creating a marketing plan and campaign for the new Minneapolis ReStore that is set to open late this summer. In March, the students spent a Saturday volunteering at the New Brighton ReStore to gain insights on the overall operation, and toured the space for the second location.
Project team member, Gabrielle, feels the project is impactful, "because we are creating a marketing plan that will actually be used to increase awareness of the new store, generate revenue and ensure that there are enough donors to keep the store running."
Gabrielle's teammates also learned that the Habitat ReStore is not just a place to volunteer, but it is also a store, and that a large percent of revenue that is generated goes into building new homes.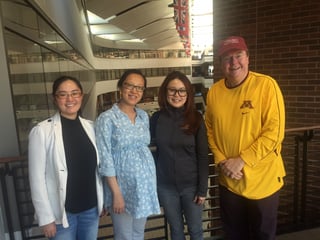 The Restore is also partnering with Carlson School of Business faculty and students to explore ways to continue to improve the customer experience, marketing effectiveness, and revenues to support a healthier housing community with Habitat for Humanity.
"An exciting opportunity has emerged after visiting the ReStore," Mark Bergen, the James D. Watkins Chair in Marketing at Carlson explains. "We've found interest in exploring pricing for both a class project and research with three faculty."
Have some Marketing skills and want to help the ReStore? We are seeking an outside agency or key volunteers to help us plan for the Minneapolis ReStore Grand Opening. Please contact pete.okeefe@tchabitat.org if interested.