When local artist Scott Backer visits the Twin Cities ReStore in New Brighton, he sees a store full of possibility.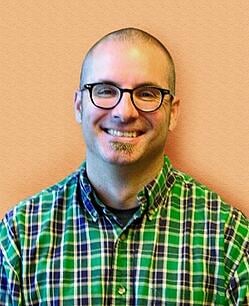 "I was previously using the Green Institute's ReUse Center for all sorts of odds and ends, so when it closed shop I was left looking for a new resource," Scott shared. "I heard about the ReStore from an friend who said he felt it was every bit as good, as the ReUse Center."
Scott (pictured right) makes welded sculpture from recycled and up-cycled steel items as part of Lil' A Design in northeast Minneapolis. Lil A' Design is a design collective that includes Scott's sculpture pieces and his wife's jewelry. Scott says he has always been an artist (and thanks to his mom, he has a physical inventory to confirm it!), and he possesses a degree in Graphic Design and Art Direction, and is a self-taught welder. Scott has been using the ReStore as a resource for raw-materials for some time, and regularly visits the store one to two times each month.

"When I shop at the store, I generally stick to my mission, which is finding funky and 'mechanically natural looking' bits that can be made into my sculpture without too much modification. Sometimes, however, I do find myself wandering through various departments just because I never know what I may find and ultimately decide I can't live without. I always look forward to what odd-bits I can find there!"
| | | |
| --- | --- | --- |
| | | |
| 3 Flower Burst is made up of masonry nails and washers found at ReStore.. | U-Staple Flower is made from u- shaped staples and some small u-bolts from the ReStore. | Electrical Tab Flower is made up of some random bits found during a trip to the ReStore. |
In all, Scott estimates that he has created over 100 pieces of sculpture in the last two years, of which, roughly thirty percent or more contain something he has found at the ReStore. But Scott's favorite piece is his very first sculpture.
"The very first piece will always be a source of amazement to me," Scott said. "As a self-taught welder, I remember vividly the emotions I went through as I assembled it. That being said, I created a piece in honor of my Mom, who I lost to cancer a couple of years ago, and it's that one piece that I always see around the house and keeps me motivated to keep brining my vision to reality in welded-steel! So I'm definitely proud of it on many levels."
Do you have any works of art or special projects you created using materials from the ReStore? Describe in the comments below, or share your project on our website!
The Backer's Lil A' Design business is licensed in the state of Minnesota and is currently in the process of creating an online presence via Etsy.com. You can see some of Scott's finished pieces on his graphic design blog and at The Gumball Collective in Northeast Minneapolis, a place that sells artisanal goods made of recycled/up-cycled materials.