To hear Mike Moody talk about it, you'd think he were in heaven when he discovered the Twin Cities Habitat for Humanity ReStore six weeks ago. The ReStore, which is based in New Brighton, sells donations of building products, furniture and other housing products to the public for bargain-basement prices. Proceeds help build more Habitat homes.

A resident of Apple Valley, Mike and his wife, Kathy, were remodeling their kitchen, family and dining rooms, but they hit a snag. Their existing cabinetry was like new, and they knew it would be a complete waste to haul in a dumpster and dispose of their beautiful oak and cherry cabinets.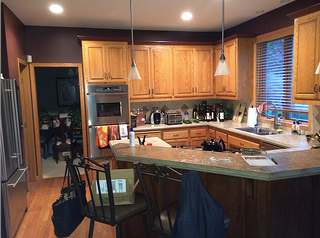 Mike considered Craig's List, but didn't want to render a portion of his garage useless by storing the cabinets there. If he did, he knew they'd be there indefinitely, waiting for people to call, view the cabinets, reject or accept them, and then dicker on price. Mike was stymied until a friend, Rev. Paul Schumacher from the Paynesville area, suggested the ReStore.

At first Mike thought he'd be donating to an actual Habitat home, until Paul explained the program.
"When I realized that my [tax-deductible] ReStore donation would allow someone to buy the cabinetry at a significantly lower price with proceeds going to build more Habitat homes, I jumped at the chance," he said. Mike added that the process was very easy, because the ReStore came with a truck and picked up the cabinets.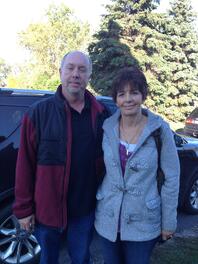 Enter the buyers, Cindy and Kent Zaffke from Pine River. Cindy began a consignment store, Tagged by Brea Resale Boutique, in Walker two years ago, that features furniture, home goods, clothing and more. Kent is a woodworker, so not only is he a master at evaluating wood cabinetry, he also knows how to install it.

Like any consigners, Cindy and Kent are ardent recycling fans. They shop the Brainerd ReStore searching for furniture to sell as is, or to give it a whole new life to by "repurposing" it. Then a friend mentioned the New Brighton store. When they arrived, they were astounded. According to Kent, "When we first saw this cabinetry, we thought each piece was $395, with both upper and lower cabinets. When we found out the entire set was $395, we just couldn't pass it up." Cindy chimed in, "This will fit our needs perfectly—and nothing will need to be done to it. It's ready to go. It's wonderful." Cindy added, "Best of all, it's nice to know that you're helping the community."


On the day the Zaffkes made the trip to the ReStore, a group of six students from Century College were volunteering at the store, in order to fulfill a class project requiring service work. They chose to volunteer for the ReStore because one of the students had volunteered for Habitat before and knew what a worthy organization it is.

As Jill Carmody, ReStore manager, says, "Without volunteers, our ReStore could not exist."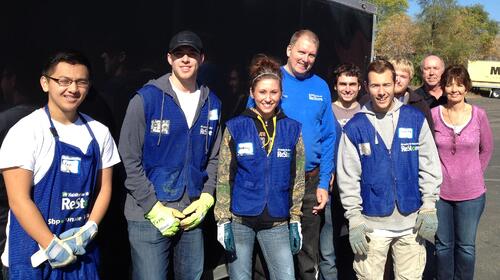 So the ReStore staff created the perfect opportunity for the Zaffkes, students and other volunteers: come in on a Saturday, unload new donations and then carefully load up the Zaffke's trailer and SUV. It took about 90 minutes for the volunteers, Zaffkes and Pete O'Keefe, ReStore operations Sr. manager, to carefully move the cabinetry from the display area into the trailer. When they were done, nearly every square inch of the trailer and SUV was filled, and not one piece was damaged.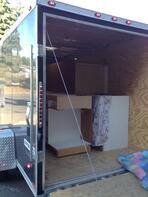 And while the Zaffkes were pleased, so, too, were the students. They all agreed that the ReStore is a great place. They were surprised by the amount of products sold here and also enjoyed their ReStore experience.

As student Josh Banta said, "I really enjoy volunteering for an organization that's here to serve the community." Volunteer Carl Iverson added, "I like helping out people in poverty. Plus I had fun today. It's also really an eye-opening experience…to see all these products and how selling them can help so many others."

With such a successful venture for volunteers, donors and buyers, it's no surprise that both Mike and the Zaffkes are spreading the word.

As Mike said, "If someone were looking for furniture or cabinetry, I'd tell them to start with the ReStore." As Cindy said, "I tell people that it's a great way to give back to the community and to recycle products. I have told many people about the Brainerd ReStore, but I also want them to know that, considering the time and gas to come here, it's still worth it."
By Marjorie Simon