The 10th Annual Virtual Hope Builders Fundraising Luncheon is just around the corner! Join us on Thursday, October 7 at noon for an inspiring discussion about the critical intersections of health, housing, and racial equity. Plus, you'll learn how your gifts can fuel Habitat's mission—and why your support is needed now more than ever.
This event is free, but registration is required. Sign up now!
Before the event, make sure to download our Event Companion Guide. Read more about our speakers, learn about the Twin Cities' racial disparities in housing, and see what steps you can take to build a community where every family has the opportunity to thrive.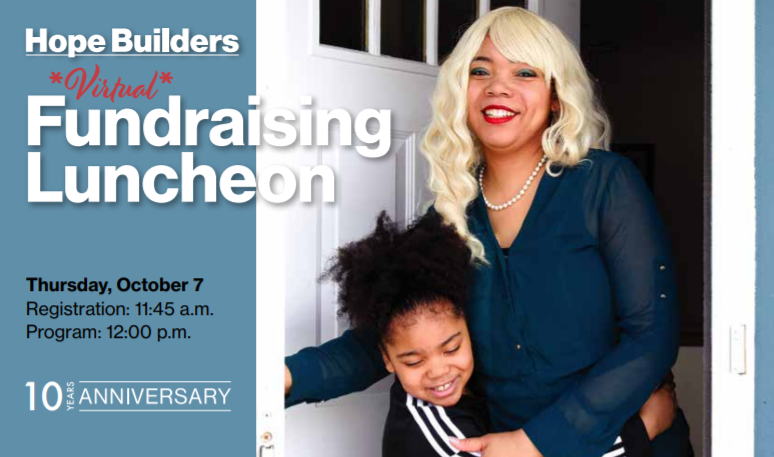 Frequently Asked Questions
How do I attend the event?
You can access the virtual event by visiting tchabitat.org/luncheon on Thursday, October 7 starting at 11:45 a.m. Be sure to sign on early so you're settled when the event begins promptly at noon.
For the best viewing experience, we recommend joining from a computer, but you'll also be able to view the event from a tablet or mobile device.
Visit the event page today to sign up. You'll receive a reminder notification when the event is about to begin and you can easily add it to your calendar.
Does it cost anything?
This event is free! All you have to do to register is visit the event page and enter your email address. Guests are encouraged to make a generous donation to support your neighbors striving toward homeownership.
Who is this for?
Everyone is welcome to virtually attend the luncheon! Homeownership remains out of reach for far too many families in our community. We have a lot of work to do, and we need everyone's support to build a community where every family has the opportunity to thrive.
What is an Event Ambassador?
Event Ambassadors are the backbone of the Hope Builders Luncheon! They invite friends and family to attend the event and encourage them to give generously. When you sign up to be an Event Ambassador, you'll receive our Ambassador toolkit with everything you'll need, including instructions for creating and sharing your very own fundraising page. It's never too late—sign up to be an Event Ambassador today!
If you already registered for the event and decided you want to be an Event Ambassador, just fill out the registration form again and check the box next to "Yes! Please send me more information about being an Event Ambassador." If you have any questions, you can reach out to Adrienne Aarts at adrienne.aarts@tchabitat.org.
Who will be speaking?
This year, we're so excited to have two phenomenal women in conversation about the importance of housing for health and racial equity. Dr. Taj Mustapha is Chief Equity Strategy Officer at M Health Fairview. Stella Whitney-West is CEO of NorthPoint Health & Wellness Center. Their discussion will be moderated by Michelle Robinson, Senior VP of Business Development at Vitalant and a board member at Twin Cities Habitat for Humanity.
You'll also hear from Twin Cities Habitat Board Chair Nikki Sorum, who will share how your gifts will support your neighbors.
What do my gifts support?
When you donate at the Luncheon, you protect homeowners, you expand homeownership opportunities, and you create an impact that multiplies for generations. Home prices are skyrocketing just as pandemic-related assistance programs are winding down, so now is a critical time to support your neighbors through Habitat.
I can't tune in – how can I give now and watch later?
That's a great question! Click here to make your gift now. A video of the conversation will be available to view on our blog. Check back soon to see when the video link will be available.
If you have a question that wasn't answered, please ask in the comments below and we'll respond!