Welcome back, volunteers! As of late June 2021, all of us at Habitat are thrilled to welcome back volunteers in full force. Find the latest information and volunteer opportunities here.
---
Everyone knows Habitat builds homes. It's the most popular volunteer opportunity at Twin Cities Habitat for Humanity for good reasons: you learn useful skills while changing your community for the better.
While we're well-known for building homes, many people are still unsure what their first day as a homebuilding volunteer will look like. Before volunteering, most people want to know: "What if I have no construction experience?" "Do I need to bring my own tools?" "What should I expect during a volunteer day?" "Can I volunteer alone?"
Watch the video below and read on for answers to all your questions about your first day building homes with Habitat:
Please note: This video was recorded before the COVID-19 pandemic. You will learn about our current COVID-19 safety protocols when you sign up to volunteer.
What can I expect on my first day building a home with Habitat?
Here are a few things to remember for homebuilding volunteers:
You don't need any construction experience to build a home with Habitat. (More on that later.)
Your first day as a volunteer will last about 8 hours. Lunch is always around noon, and we usually clean up around 4:00 p.m.
As soon as you arrive, head straight to the trailer onsite to grab your safety gear and make a name tag. Then your site supervisor will gather everyone for a brief safety talk and an explanation of the tasks you'll be doing that day.
You don't need to worry about what to do next. Our site leaders will teach you your tasks for the day and check in regularly to make sure you're comfortable with the work you have on your plate. You can always change tasks if you'd like – just ask!
What if I have no construction experience?
When we say you don't need construction experience to volunteer with Habitat, we really mean it. You don't need to be a handyman, architect, or even particularly good with tools. Never built anything before? No problem! You can still help out on site.
Take it from Kevin, one of our frequent homebuilding volunteers. On his first homebuild, Kevin says he had "two left thumbs": "I couldn't hammer anything together! Every build that I've been to, I've learned a different skillset."
Of course, we'll train you to make sure everything you do is done safely and with minimal risk to you and your fellow volunteers. We have staff onsite who are prepared to answer questions and make sure volunteers have all the resources necessary to complete their tasks. By the end of your first day, you'll leave knowing something useful about building.
"There's so much support onsite from supervisors or other returning volunteers if you have questions," says Kelsey, another regular on our homebuilding sites. "Everyone is super excited to help you out."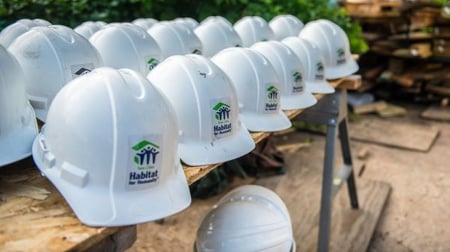 What should I bring on my first day as a volunteer?
The Twin Cities Habitat for Humanity team will always provide all the tools and safety equipment you'll need to accomplish your tasks for the day.
Please refer to your volunteer confirmation emails for the most up-to-date COVID-19 protocols.
That said, there are a few things you'll want to bring on your own:
Weather-appropriate layered clothes (they'll probably get dirty)
Sturdy, closed-toe shoes (required)
Work gloves
A water bottle
Sunscreen
Your own lunch and snacks
A good attitude!
COVID-19 safety
Safety is always our top priority on site. During the COVID-19 pandemic, our staff have worked hard to design new safety protocols that will provide you with a safe, engaging, and meaningful volunteer experience. You can see our safety guidelines outlined here.
Because pandemic restrictions and CDC guidelines change regularly, please refer to your volunteer confirmation email for our latest COVID-19 safety protocols.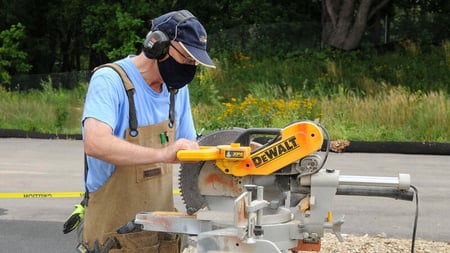 Why volunteer to build homes with Habitat?
Building a home is fun! It's also a great way to meet new people who are interested in doing good for the community. Take it from Kelsey: "Something that brings me back every day is the fun atmosphere onsite … every day, I'm going to meet someone different and be able to learn in a supportive and welcoming environment."
And of course, regardless of your tasks for the day, you're helping a local family achieve their dream of homeownership – which is especially important as the affordable housing crisis continues to affect families in the Twin Cities.
"Every little thing you're doing, whether it's pounding walls together or helping clean up the job site, helps the job continue moving," says Kevin, "and helps someone get into a home that they're currently not in."
Find out more about volunteering with Habitat at the link below. Thank you to all our current and future volunteers!