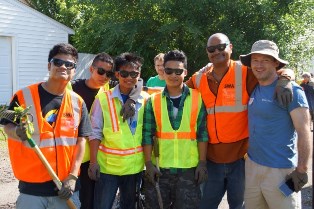 Twin Cities Habitat for Humanity works with over 17,000 volunteers annually, but there are always unique groups that bring more than volunteer power to Habitat projects. Boys Leadership Empowerment Network (BLEN) is one of those groups.
BLEN began volunteering with Habitat in the spring of 2015 at the ReStore and since then have volunteered at a homebuilding site, landscaping and at our Frogtown Neighborhood clean-up.
The boys are ethnic Karen which is a tribe from southeastern Myanmar. In the 1990s and 2000s the civil war forced them to flee with their parents to refugee camps in Thailand. Most of the boys came to St. Paul within the last one to four years.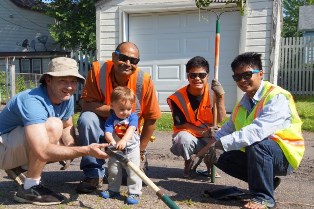 BLEN was started by the Women's Initiative for Self-Empowerment. The purpose of BLEN is to provide opportunities for immigrant and refugee high school boys to prepare for college, improve academic skills, and build leadership skills.
Many of the boys had construction experience in the refugee camps because they built their own houses, schools, and churches. So when the group talked about where they would like to volunteer, Habitat seemed like a great fit.
At the Frogtown neighborhood clean-up, BLEN volunteers were the heart and soul of the cleanup. Many of the boys live in the neighborhood, so this experience was especially meaningful.
One student, Baby Htoo, said that he likes "volunteering because it makes my heart feel good."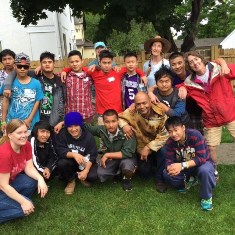 This Saturday, September 19th, BLEN will help build Madison's Place Universal Access Playground. Twin Cities Habitat will be partnering with the Madison Clare Foundation to build the first fully accessible playground in the East Metro. There are still some spots available to help build Friday, September, 18th. Sign up here if you're interested.